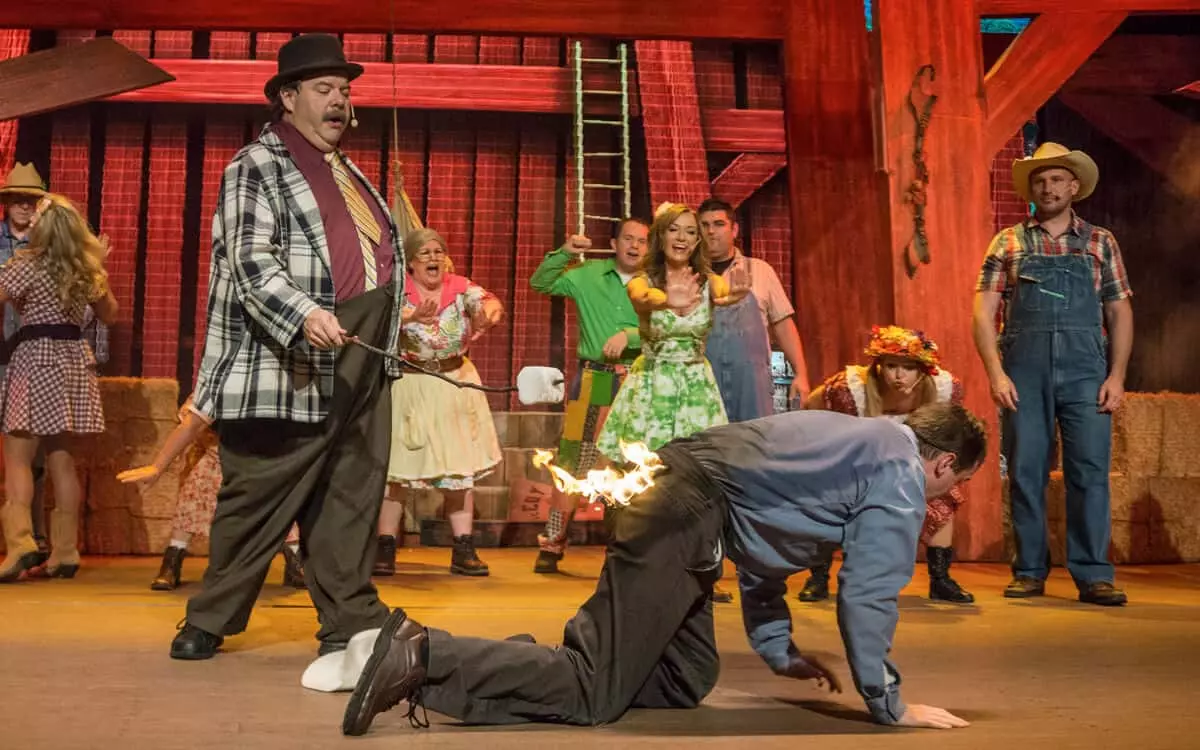 4 Reasons to Plan a Visit to Hatfield & McCoy Dinner Feud This Summer
June 14, 2022
Are you ready for a summer to remember? Plan a visit to Pigeon Forge! While you're here, you don't want to miss the opportunity to see our fun-filled show. Hatfield & McCoy Dinner Feud features hilarious hillbillies, singing and dancing, and so many other exciting elements. If you need more convincing on why you should come and see us, check out these 4 reasons to plan a visit to Hatfield & McCoy Dinner Feud this summer:
1. New Show-Stopping Addition
The top reason to come see us this summer is because we have a brand new show-stopping addition! Fun takes flight this summer at our theater — literally! The mayor brings the sheriff a new high-flying contraption that allows the sheriff to keep up to date with what's happening between the Hatfield and McCoy families. As expected, hilarity ensues when this new machine makes its debut in our show. You'll just have to visit us to learn more!
2. Our Swimming Hole
Nothing says summer like going for a swim, and our cast couldn't agree more! Our 24-foot-deep swimming pool brings a fun element to our show as guests can watch our diving hillbillies. Not only will our hillbilly performers take turns showing off their diving skills, but our animal performers will as well! Watch as our 5 diving dogs entertain the audience with their tricks. If you sit in the front row, you'll be in the Splash Zone!
3. Our Feast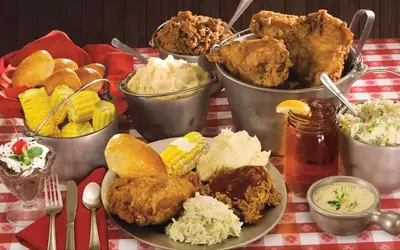 One of the best parts about summer vacation is all the delicious food you get to eat, and Hatfield & McCoy Dinner Feud is prepared to serve you an all-you-can-eat Southern feast when you visit! You will have endless helpings of Southern comfort food, from fried chicken, to homemade bread, to a specialty dessert. Take a look at our full menu to learn more about our meal! We also have vegetarian, vegan, dairy-free, and gluten-free meal options available.
4. Our Great Location
Another great reason to visit us this summer is because of our location! We're located on the Pigeon Forge Parkway, close to other popular things to do and the best places to stay. You won't have far to go to get to our theater from wherever you are in Pigeon Forge! Spend the day at fun summer attractions like Dollywood or Dollywood's Splash Country, then spend the evening enjoying dinner and entertainment at Hatfield & McCoy Dinner Feud!
About Hatfield & McCoy Dinner Feud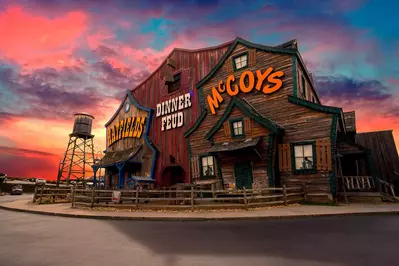 At Hatfield & McCoy Dinner Feud in Pigeon Forge, we put on a family-friendly show that people of all ages will love! Our show is centered around one of the most famous family feuds in Smoky Mountain history. Watch as the Hatfields and McCoys try to settle their differences mountain-style through various competitions like clogging and playing instruments. Not only will you get to experience our new high-flying addition, but you'll also get to see the other elements our visitors know and love, like comedy, singing, dancing, diving dogs and hillbillies, and so much more.
Are you ready to plan your summer visit to Hatfield & McCoy Dinner Feud? Get your tickets today! We can't wait to see you!