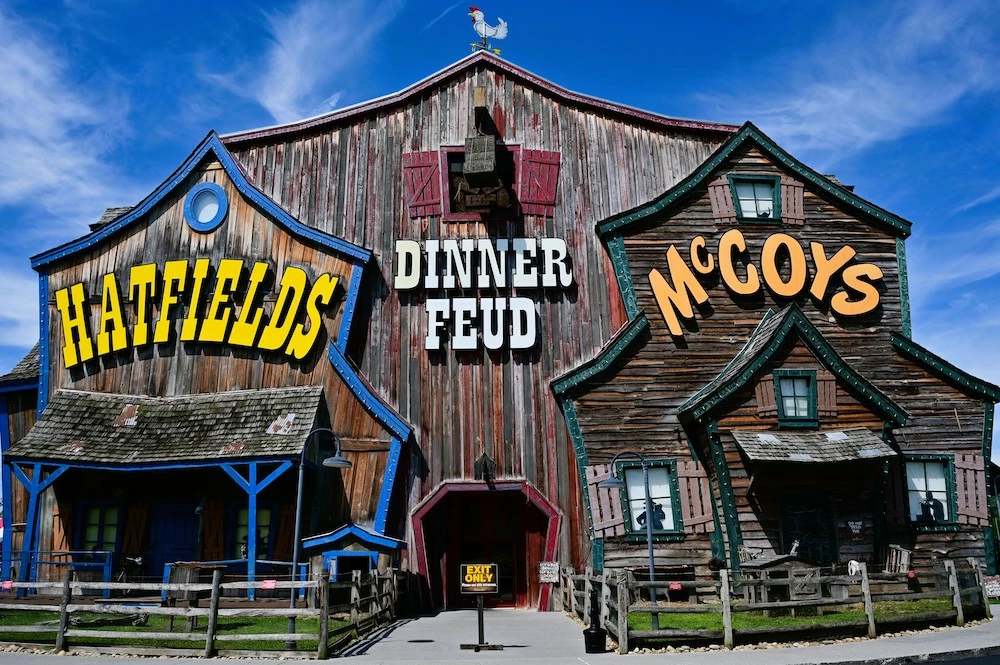 Your Guide to Visiting Hatfield & McCoy Dinner Feud in Pigeon Forge
June 26, 2023
Are you ready to become a part of the longest running family feud in history? Start planning your visit to the Hatfield & McCoy Dinner Feud in Pigeon Forge! Our dinner show provides an evening of laughter and family entertainment that you won't want to miss on your vacation. To help make sure you have the best time while you're here, we've put together a guide to visiting Hatfield & McCoy Dinner Feud:
1. Plan Ahead of Time
One of the best things to do when it comes to visiting our dinner attraction is to plan ahead of time. Did you know that you can get tickets to our show online in advance? Once you know the dates of your vacation, you can view our show schedule and pick a date and time that works best for you. Planning ahead is the only way you guarantee you'll get to see our show at the time that works best for you. Plus, knowing the date and time you'll be at our theater makes it easier to plan the rest of your trip! When you purchase your tickets online, you'll also get to specify your preferred seating and if anyone in your group would like a special meal.
2. Arrive Early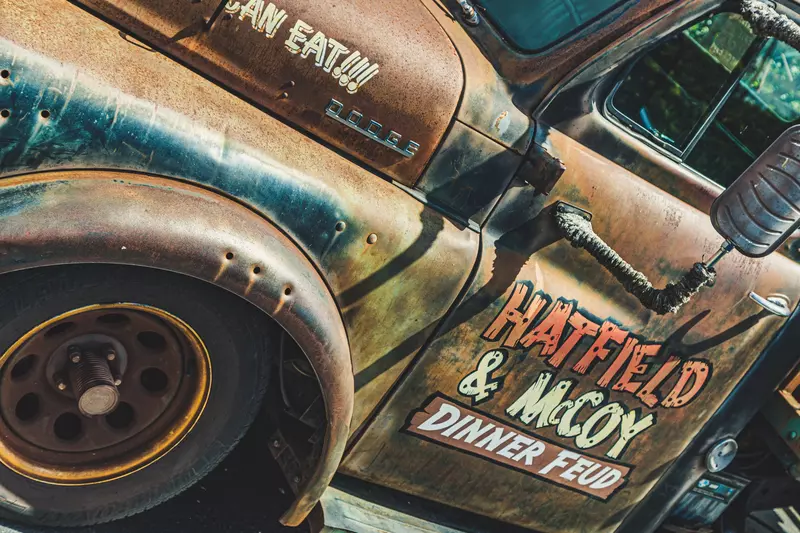 On the day of our show, you'll want to plan to arrive early. This gives you plenty of time to walk around our attraction, take pictures at our many photo ops with your loved ones, and take your seats in our theater. Planning to arrive early also helps you be prepared in case you get stuck in traffic on your way here — you won't want to miss a second of our show! If you get your tickets online ahead of time, all you'll have to do the day of our show is pick them up at the box office.
3. Come Hungry
You better bring your appetite when you visit Hatfield & McCoy Dinner Feud in Pigeon Forge! We serve up a delicious Southern homestyle feast that tastes like it came straight from Granny's kitchen. The best part is that it's all-you-can-eat! You can enjoy endless helpings of Ma's Hot Homemade Bread, Southern Style Creamy Soup, Feudin' Fried Chick'n, Open Pit Pulled-to-Pieces Pork Barbeque, Smashed Mashed Taters, Buttery Corn on the Cob, No Tellin' What's In It Coleslaw, and Granny's Famous Specialty Dessert. This mouth-watering feast is served family style for visitors to enjoy.
4. Bring the Whole Family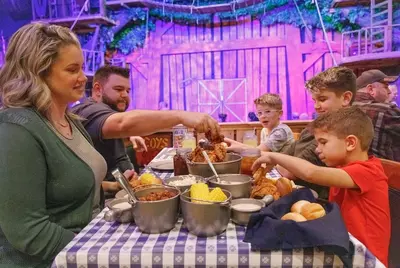 You'll want to bring the whole family along to enjoy our hilarious show! Everything is more special when you share it with the ones you love, and our show is no exception. Plus, watching the two feuding families will make your family feel better about any quarrels you may have had! Our show is great for all ages, from kids, to parents, to grandparents. Enjoy singing and dancing, mighty feats of strength, jaw-dropping stunts, and side-splitting comedy. You'll even have the chance to spot diving dogs and hillbillies!
5. Stop by the Gift Shop
Before you leave, don't miss the chance to stop by the gift shop! You won't want to leave Hatfield & McCoy Dinner Feud in Pigeon Forge without taking home something special. You'll be able to find the perfect souvenir in our gift shop, whether it's a Hatfield & McCoy t-shirt, toys, or our creamy soup mix. You can't go wrong with any item you choose to buy at our gift shop. Don't forget to get some gifts for your loved ones back home too!
Now that you have our complete guide to visiting Hatfield & McCoy Dinner Feud in Pigeon Forge, you're ready to start planning! Take a look at our show schedule and get your tickets today.