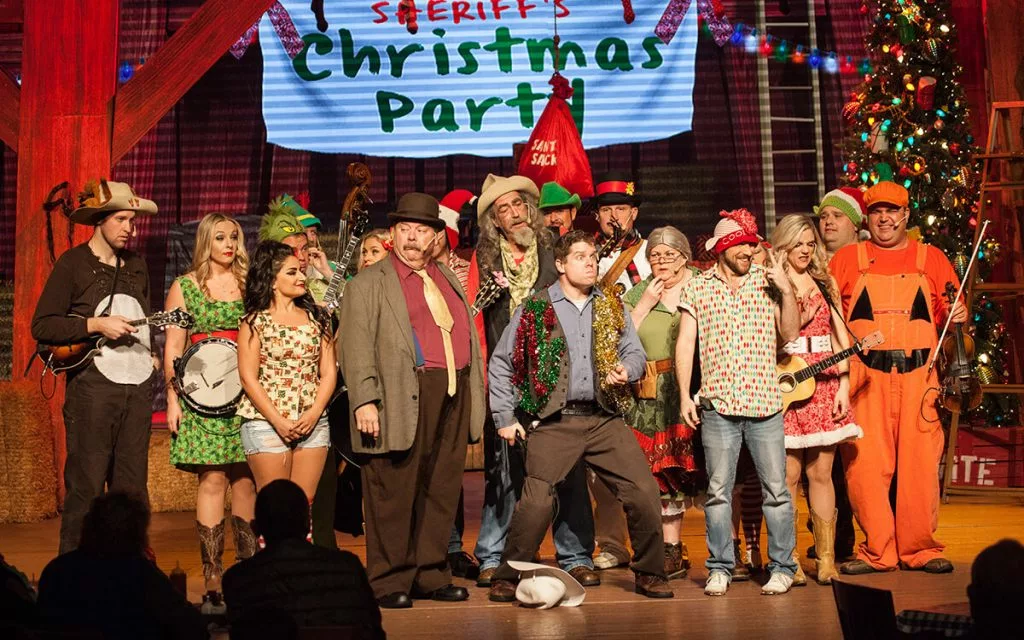 Hatfield & McCoy Christmas Disaster Provides Laughs, Memories for Families This Holiday Season
November 2, 2022
The craziness that often surrounds the Christmas season comes alive on stage at the Hatfield & McCoy Christmas Disaster in Pigeon Forge, a dinner show experience that will have families making special memories and laughing at the yuletide antics of America's two favorite feuding families. The holiday fun starts on Nov. 1 and continues through Dec. 31.
Visitors will join Pa Hatfield and Ma McCoy as they try to set aside their differences to celebrate the spirit of the season, but there is a multitude of chaos and commotion along the way. This comical dinner show brings together these two famous feudin' families and the area townspeople for lots of singing, dancing, music, athletic stunts and shenanigans that tell a holiday story like none other. Making its holiday debut in the Christmas Disaster show is a new high-flying contraption called the billy-copter, and it's bound to help the town sheriff keep an eye on the Hatfield and McCoy families to see who's naughty and who's nice even better than Santa and his sleigh!
This Christmas adventure is full of fun, food and feudin' guaranteed to put the audience in the holiday spirit – and might even make them feel better about the craziness found in their own yuletide gatherings. Pa Hatfield and Ma McCoy say it best: "If you think your family is dysfunctional, you should see both of ours."
"The holidays can be such a crazy time for families," said Rob Mills, General Manager at the Hatfield & McCoy Dinner Feud. "Our fun-filled Christmas show will make you laugh and share the fun of our two crazy families with your family and leave that holiday 'To Do' list aside for a little while. After seeing the Hatfields and McCoys, you'll think your family is perfect this Christmas! It's just good old-fashioned fun and a tribute to the holidays and family like nothing anywhere else. Come join us and make some great holiday memories this year with the Hatfields and McCoys and our entertaining cast of characters that combine chaos and carols!"
And nobody does Christmas dinner like the Hatfields and McCoys. The family-style holiday feast is all you can eat served up with all the best Southern favorites. The meal begins with creamy vegetable soup and hot homemade bread, followed by fried chicken, pulled pork barbecue, mashed potatoes, creamy coleslaw, corn on the cob, and a special dessert to complete the evening. Vegetarian, dairy-free and gluten-free meals available upon request.
The Hatfield & McCoy Theater is located at 119 Music Road in Pigeon Forge. Show times and reservations are available by visiting our tickets page or calling 800-985-5494.