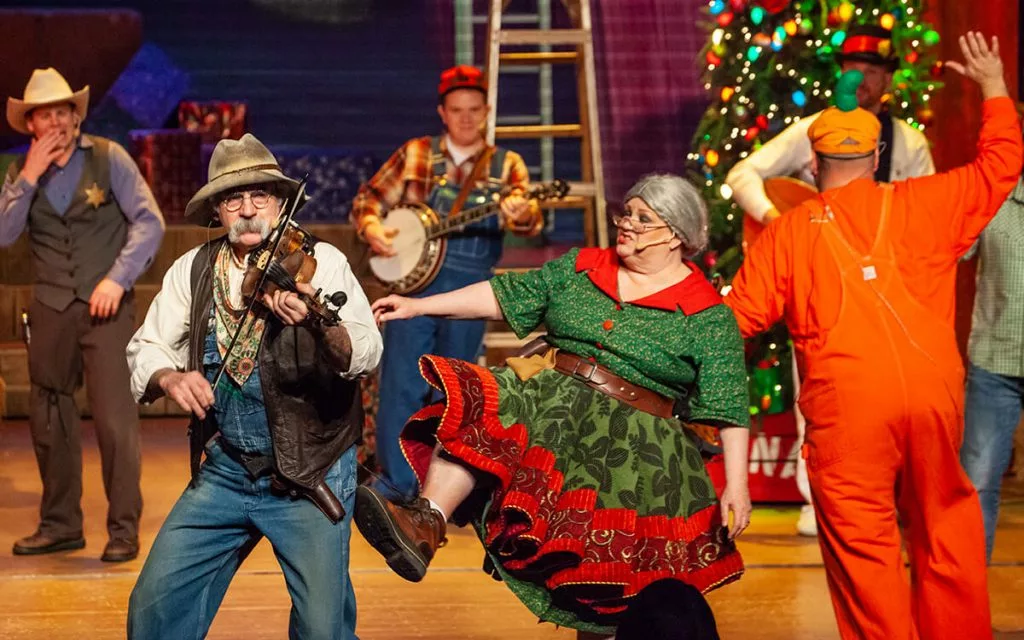 Hatfield and McCoy Dinner Feud Serves Up a Sleigh-Load of Laughs and Merry Memories for Families This Holiday Season
October 26, 2023
The holly-jolly chaos of the Christmas season takes the stage at the Hatfield & McCoy Dinner Feud in Pigeon Forge, delivering a brand-new yuletide show that will have families laughing all the way through the holiday experience. America's two favorite feuding families have found a new seasonal squabble to create holiday hijinks this year, kicking off the festive antics on Nov. 1 and continuing through Jan. 6, 2024.
Guests will join Pa Hatfield and Ma McCoy as they attempt to embrace the true spirit of the season amidst a newly developed disagreement, but there are a flurry of festive fiascos and holiday chaos along the way. A new cast member named Lil Hickory, a pig with a penchant for Christmas mischief, adds to the seasonal silliness, and he's literally quite a "holiday ham." This comedic dinner show unites these two famous feudin' families along with the area townsfolk in a jolly jamboree of singing, dancing, music, stunts and seasonal shenanigans that bring this one-of-a-kind holiday tale to life.
This Christmas escapade is a holly hodgepodge of food and festive fun, guaranteed to put the audience in the Christmas spirit, and perhaps make their own holiday gatherings seem a bit less chaotic.
"The holidays bring a whirlwind of both activities and fun for all families," said Rob Mills, General Manager at the Hatfield and McCoy Dinner Feud. "Our Christmas show, stuffed with laughs and the Christmas craziness of our boisterous bunch, lets you share the joy with your own family and take a break from that daunting holiday 'To Do' list. After an encounter with the Hatfields and McCoys, your family will seem a little more perfect compared to this crazy crew. There's nothing quite like the good old-fashioned merriment and family fun to be had at our show. Come on over and craft some jolly holiday memories this year with the Hatfields, McCoys and our cast of characters, as these two families bring the chaos and carols into one unforgettable production."
All the feudin' will work up quite the holiday appetite, and one thing the Hatfields and McCoys can agree upon is the importance of a delicious Christmas feast. The family-style holiday dinner is all you can eat served up with all the best Southern favorites from Ma McCoy's country kitchen. The meal begins with creamy vegetable soup and hot homemade bread, followed by fried chicken, pulled pork barbecue, mashed potatoes, creamy coleslaw, corn on the cob, and a special dessert to complete the evening. Vegetarian, dairy-free and gluten-free meals available upon request.
The Hatfield & McCoy Theater is located at 119 Music Road in Pigeon Forge. Show times and reservations are available by visiting our website or calling 800-985-5494.