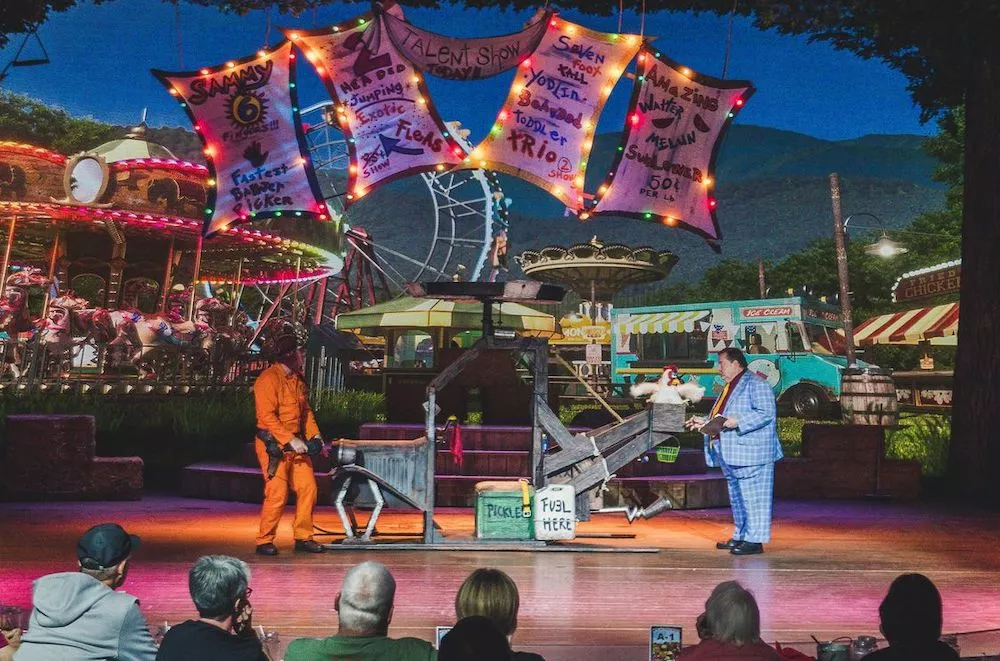 From Comedy to Stunts: Top 5 Acts Guests Love at Our Pigeon Forge Show
April 22, 2023
From the moment our show begins to the moment it ends, guests will be entertained by our hilarious and talented cast of performers! You'll witness everything from jaw-dropping stunts to musical performances that will have your feet tapping along to the beat. To help you learn more about what to expect, we've made a list of the top 5 acts guests love at our Pigeon Forge show:
1. Diving Dogs & Hillbillies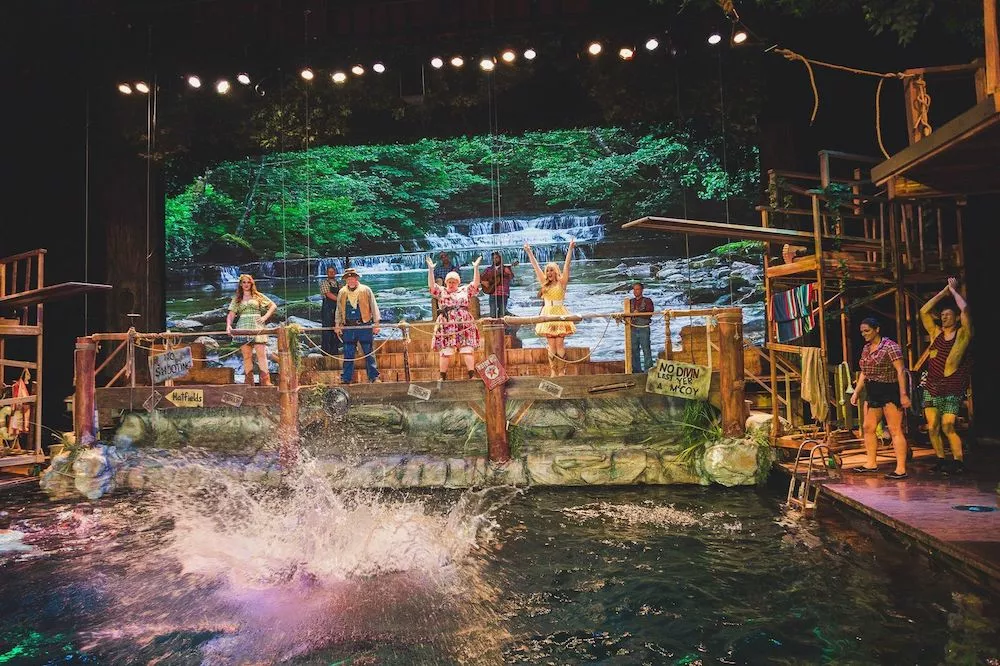 Some of the most talked about performers at Hatfield & McCoy Dinner Feud are our diving dogs and hillbillies. Guests love when our stage transforms into a swimming hole. Our swimming hole is 22 feet deep and is filled with over 20,000 gallons of water. With this addition, we were able to introduce our incredible diving dogs and hillbillies act! Watch as our hillbillies show off their hilarious diving tricks as they leap and flip off the diving boards into the swimming hole. Then, our four-legged friends join in on the action as they leap across the pool to fetch toys and sticks!
2. Our Billycopter
For our 2022 season, we introduced some high-flying fun in our Pigeon Forge show with the addition of our billycopter. The mayor brought the billycopter to the sheriff to help him keep an eye on the Hatfields and McCoys and all the mischief they're causing in town! You won't believe the extra laughter and fun that this mountain-built machine brings to the stage.
3. Musical Acts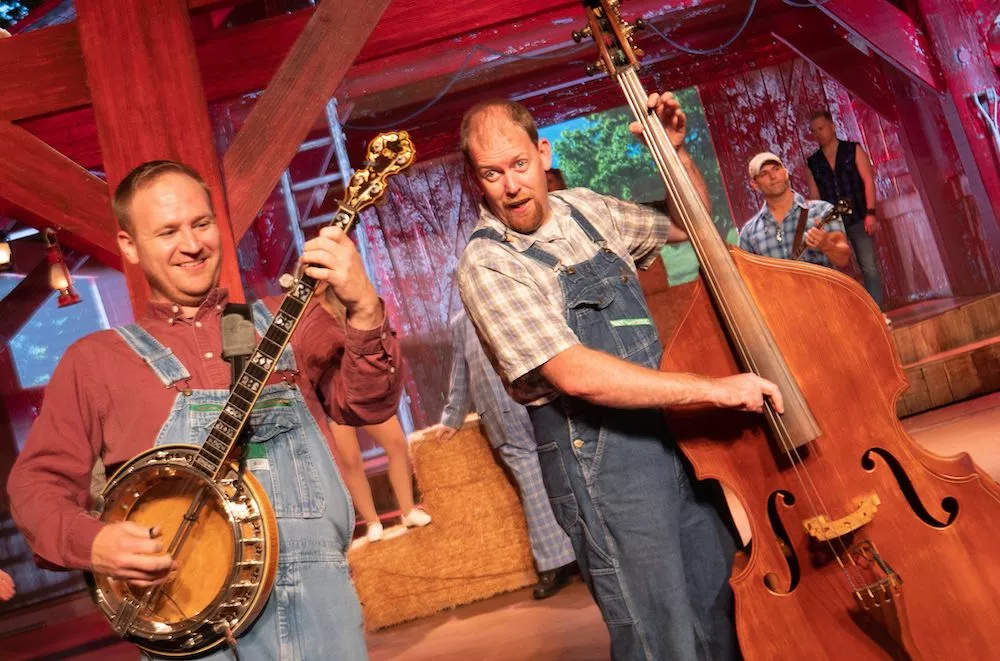 The McCoy family is full of musical talent! Ma McCoy brought her three sons to the Great Smoky Mountains, along with their talents on the banjo, fiddle, and bass, and visitors are in for a treat when they start playing! They aren't the only family with talent, though. The Hatfields show off their musical skills as well! Guests love enjoying the music, and the vocals from our talented cast members are unmatched.
4. Clogging
Pa Hatfield had the same idea as Ma McCoy and brought his three daughters to the Smokies as well, along with their dancing skills! You'll love watching the impressive clogging performances throughout our Pigeon Forge show.
5. Jaw-Dropping Stunts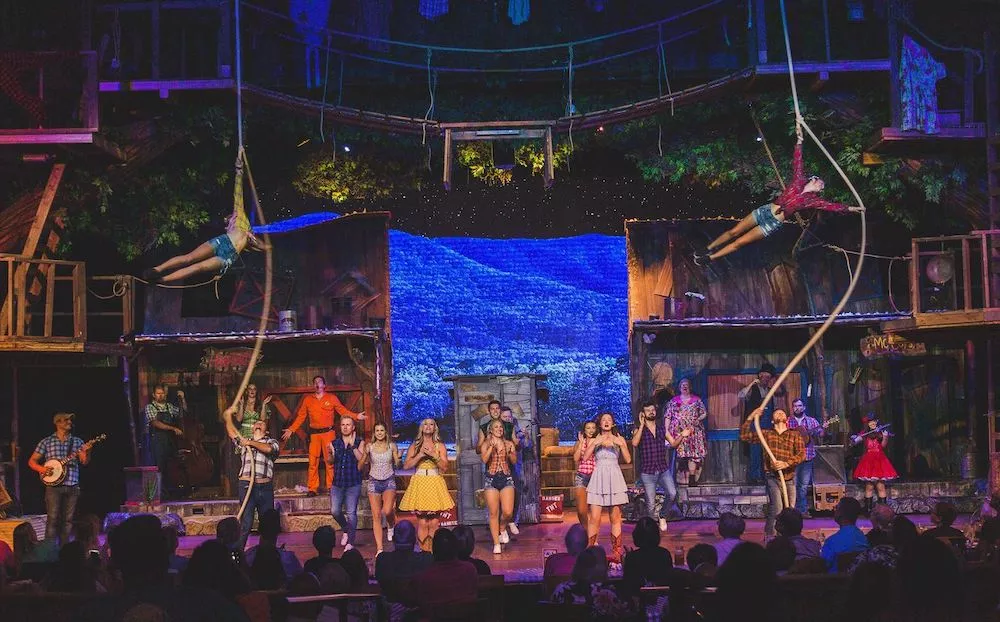 In addition to singing and dancing and high-diving tricks, our show also features some jaw-dropping stunts that will not only impress you, but put a smile on your face as well! Some favorites include our rope tricks and mighty feats of strength.
More Things to Enjoy at Our Pigeon Forge Show
In addition to these acts mentioned above, our all-you-can-eat Southern homestyle feast is another favorite part of our dinner show! When you take your seats and get ready for the fun to begin on stage, you'll get to enjoy a delicious meal that tastes like it came right from Granny's kitchen. When the show comes to a close, you'll be full of delicious food and fun times. Be sure to stop by our gift shop on the way out to get the perfect souvenir!
Are you ready to see these top 5 acts guests love in our Pigeon Forge show? Get your tickets to Hatfield & McCoy Dinner Feud today!