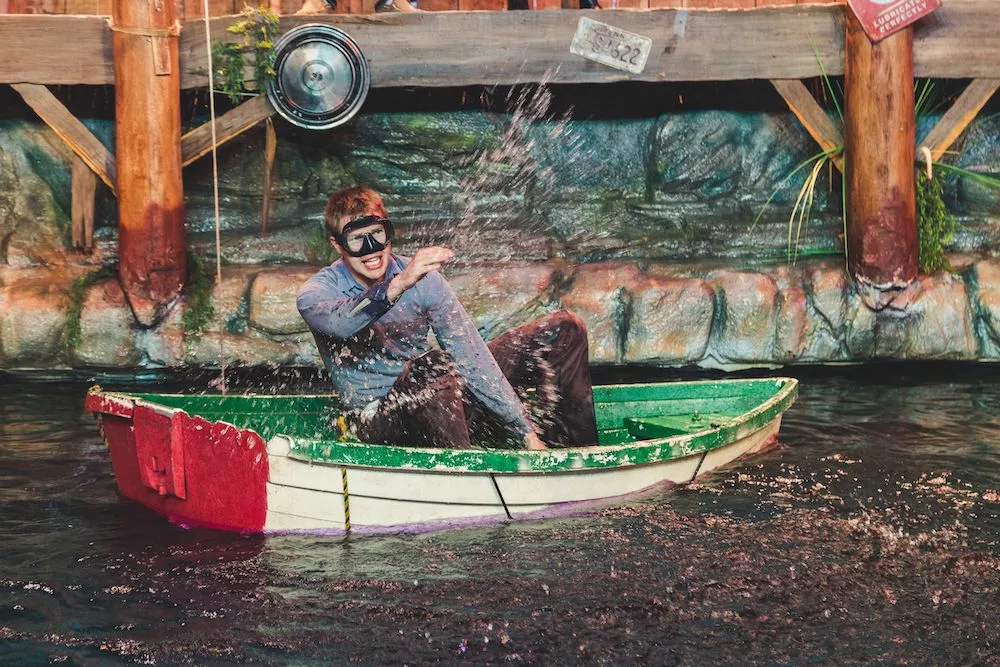 Top 4 Moments During Our Pigeon Forge Dinner Show
October 12, 2023
Our Pigeon Forge show is one-of-a-kind! When you visit our dinner attraction, you're in for an evening filled with feudin', feastin', and family fun. Whether you've heard about us before and are excited to plan your trip or you're hearing about us for the first time, we want to help you learn more about what to expect when you step foot inside the Hatfield & McCoy Dinner Feud! Take a look at these top 4 moments during our Pigeon Forge dinner show:
1. When Our All-You-Can-Eat Feast Is Served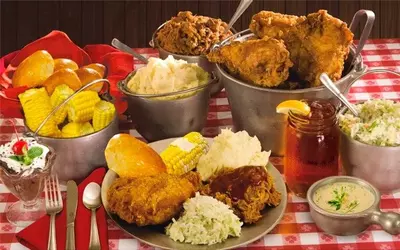 One of the highlights of the evening for everyone who visits is when our dinner is served! You won't find a feast quite like ours anywhere else in Pigeon Forge. Our Southern homestyle dinner tastes like it came right from Granny's kitchen! We're here to feed the hungriest of travelers with a dinner that's all-you-can-eat. You better bring your appetite to enjoy endless portions of Feudin' Fried Chick'n, Open Pit Pulled-to-Pieces Pork Barbeque, Southern Style Creamy Soup, Smashed Mashed Taters, Buttery Corn on the Cob, Ma's Hot Homemade Bread, No Tellin' What's In It Coleslaw, Granny's Famous Specialty Dessert, and Unlimited Coca-Cola®, tea, or coffee. There won't be a dull moment during the meal — you'll get to eat while you watch our hilarious show!
2. When Our Stage Transforms Into a Swimming Hole
Another memorable moment during our show is when our stage turns into a swimming hole! Our swimming hole is 22 feet deep and opens up an exciting opportunity for our performers to show off their diving skills. We debuted our swimming hole to guests in May of 2018, and it's been a crowd favorite ever since. We've filled it with more than 20,000 gallons of water, making it big enough for both the Hatfields and McCoys to get in at once! Our hillbilly performers aren't the only ones who do crazy dives into the water, though — we have diving dogs as well! Our athletic dogs leap across the swimming hole to fetch toys and sticks. This moment of our show is definitely one you won't want to miss!
Tip: Purchase a VIP ticket to get the best seats in the house and a chance to be in our Splash Zone!
3. When the Billycopter Is Introduced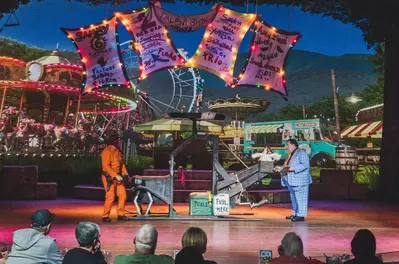 For our 2022 season, we introduced some high-flying fun, and it's quickly become a top moment during our Pigeon Forge dinner show. Our billycopter is a high-flying contraption that brings new levels of excitement to our performance. The mayor brought this mountain-built machine to the sheriff to help him keep an eye on everything that's happening between the Hatfield and McCoy families. You'll love the chaos that ensues from this addition!
4. When Our Feuding Families Compete
Our show wouldn't be complete without a little competition. During the show, the Hatfields and McCoys try to settle their differences mountain-style as they challenge each other to various stunts, musical competitions, and other entertaining acts. See which family is better at making a splash in our swimming hole, clogging, banjo-strumming, and even singing! The jaw-dropping stunts, singing and dancing, and mighty feats of strength will have everyone on the edge of their seats!
Visit Our Pigeon Forge Show
Are you ready to witness these top 4 moments of our Pigeon Forge dinner show for yourselves? Get your Hatfield & McCoy Dinner Feud tickets today!