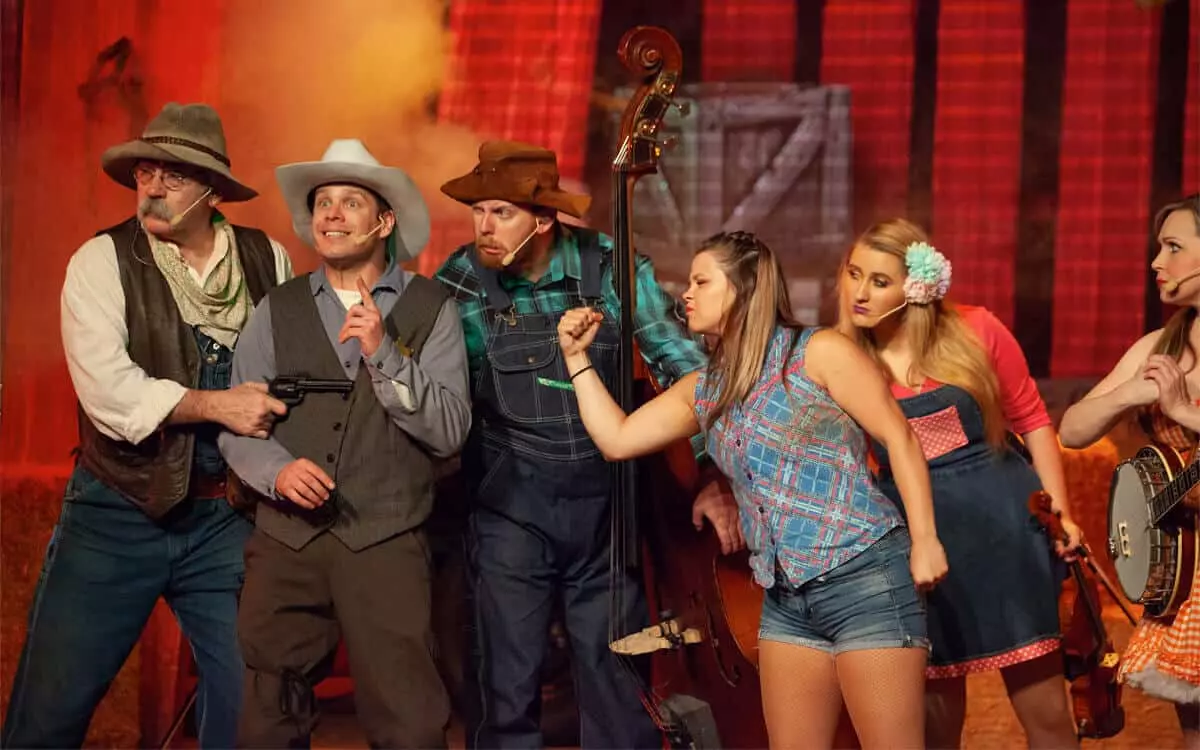 5 Ways Our Pigeon Forge Dinner Show Brings Fun and Excitement
July 29, 2022
If you're looking for fun and excitement, look no further than Hatfield & McCoy Dinner Feud! When you visit our show, you can expect an evening filled with laughter and good times. Smiles will be on your faces from the moment our performers step on the stage throughout the rest of the evening. To help you learn more about what to expect, we've put together a list of 5 ways our Pigeon Forge dinner show brings fun and excitement.
1. Family Feudin'
Who doesn't love some feudin' family fun? There's nothing more entertaining than some friendly competition, and that's exactly what you can expect at our show. The Hatfields and McCoys have always fought about who's better when it comes to entertainment. Back in 2011, Pa Hatfield wanted a fresh start somewhere new and came to the Great Smoky Mountains, but Ma McCoy had the same idea! Now, the two families are in Pigeon Forge trying to settle their differences in our show through singing, dancing, clogging, comedy, diving, and more. When these two families get together, it's guaranteed chaos and entertainment!
2. Swimming Hole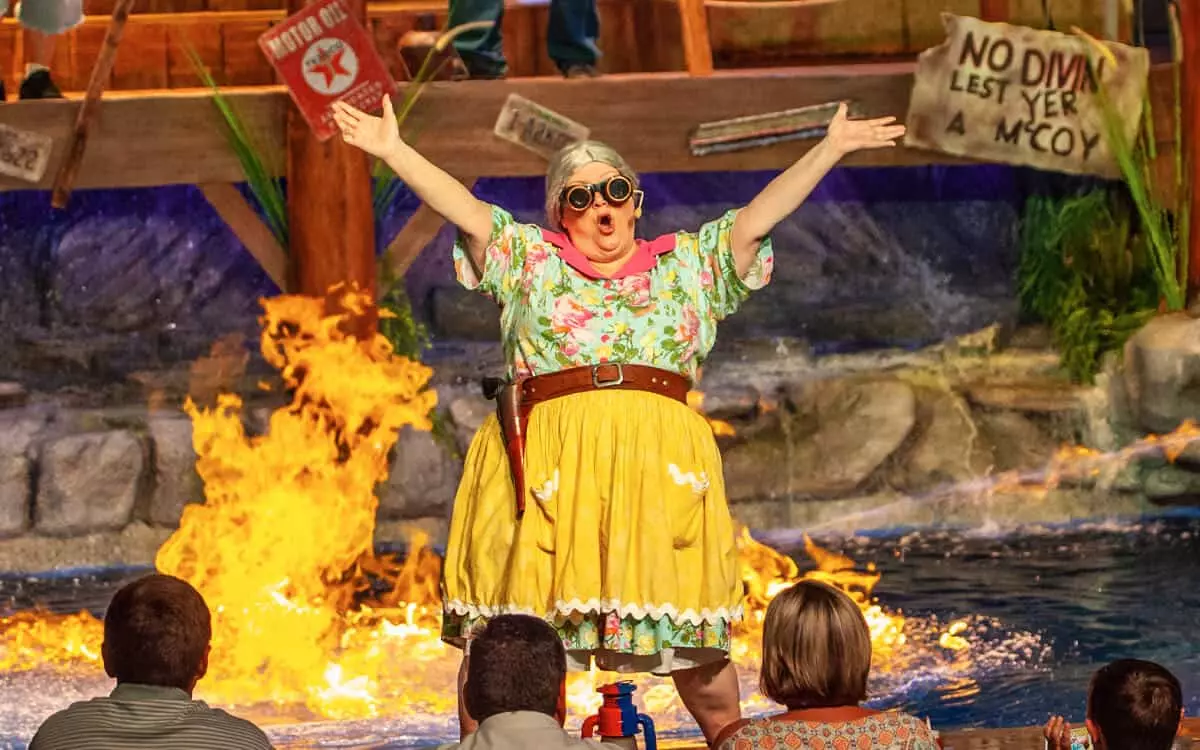 During our 2018 season, we introduced a 24-foot-deep swimming hole to our stage area, filled with 300,000 gallons of water! This is the only stage of its kind in the Smoky Mountains. When we created our swimming hole, we made way for two new acts: our diving hillbillies and our diving dogs. Since 2018, this portion of our show has become a crowd favorite. Our hillbilly performers spring from diving boards above the stage in a thrilling diving competition, while our diving dogs show off their own tricks! If you're sitting in the front row, beware, you're now in the splash zone!
3. Billycopter
During the summer of our 2022 season, we introduced a brand new element to our show: the billycopter. This feature adds high-flying fun to the Hatfield & McCoy Dinner Feud. It's a flying contraption that's been cobbled together with crates, planks, and other miscellaneous items, like a hapless chicken! The mayor gifted the billycopter to the sheriff to help him keep an eye on what's happening with the Hatfield and McCoy families, and you can guess that hilarity ensues because of it!
4. All-You-Can-Eat Dinner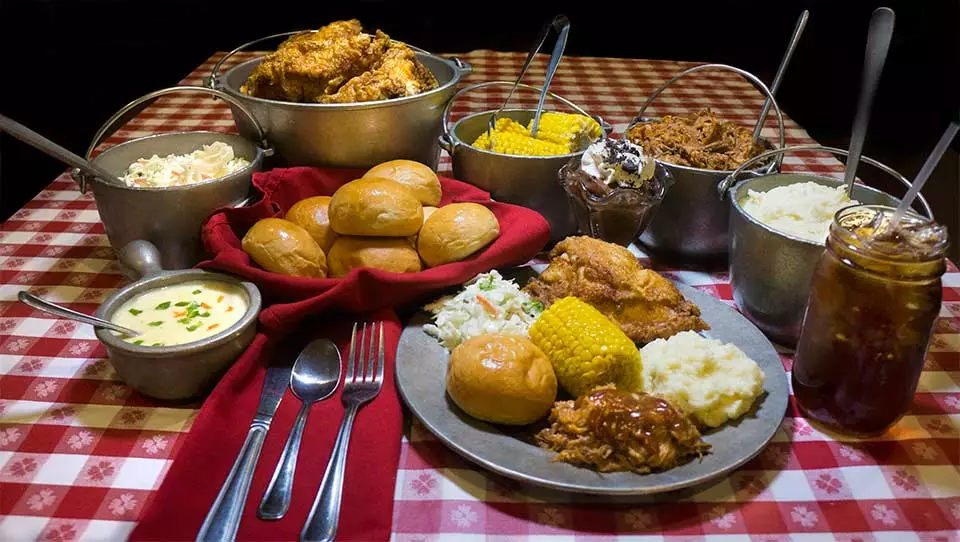 Nothing pairs more perfectly with a fun evening than a feast! At our Pigeon Forge dinner show, you can expect a delicious, Southern homestyle feast that tastes like it's straight from Granny's kitchen. Plus, it's all you can eat! Here's what you can expect:
Feudin' Fried Chick'n
Open Pit Pulled -to-Pieces Pork Barbeque
Southern Style Creamy Soup
Smashed Mashed Taters
Buttery Corn on the Cob
Ma's Hot Homemade Bread
Daisy's Blue Ribbon Coleslaw
Granny's Famous Specialty Dessert
We also have gluten-free, dairy-free, vegetarian, and vegan meals available upon request. You'll love getting to enjoy the meal while you watch our famous family feud!
5. Gift Shop
What's more exciting than getting the perfect souvenir to take back home with you after you see our show? We have a gift shop that includes everything from stuffed animals and toys to t-shirts and hats. Whether you want a toy for the kids or a photo to hang on the wall at home, you'll be able to find it at our gift shop.
Are you ready to experience all the fun and excitement our Pigeon Forge dinner show brings? Get your tickets for Hatfield & McCoy Dinner Feud today!