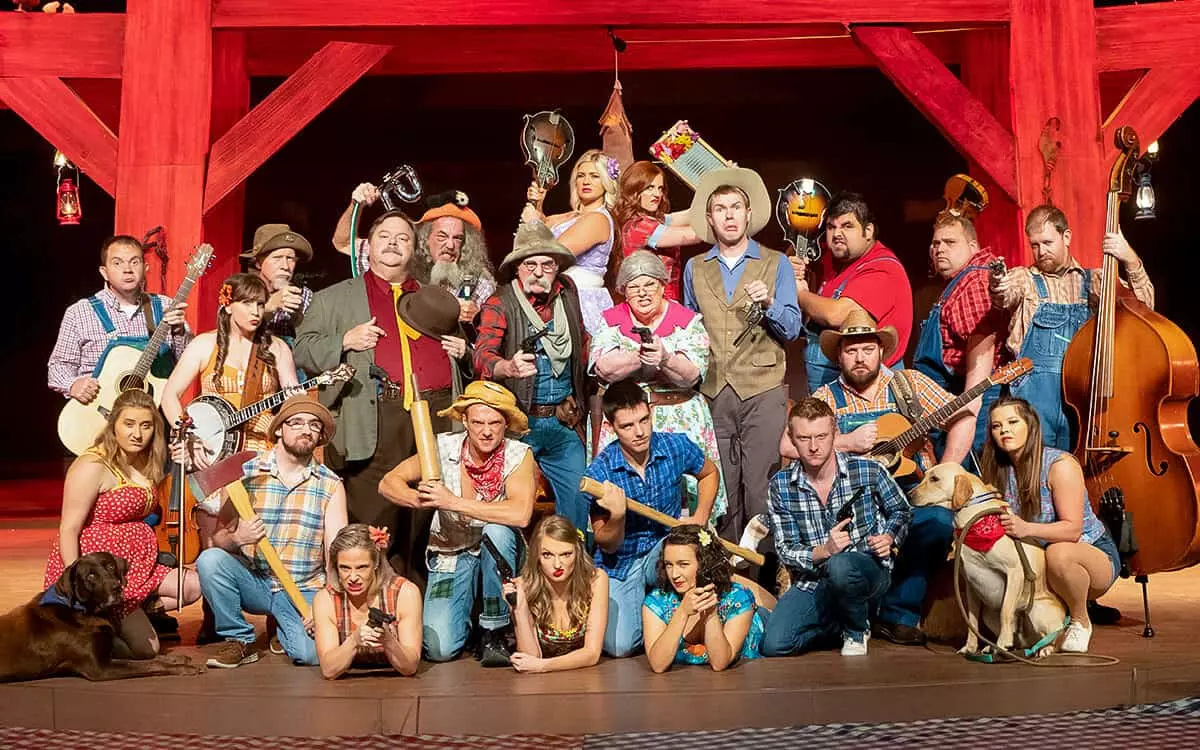 5 Reasons to Bring Your Family to Our Pigeon Forge Show
February 28, 2022
Are you looking for something fun to do with the whole family? Bring them to our Pigeon Forge show! The Hatfield and McCoy Dinner Feud has been welcoming families for over 10 years and providing them with nights full of nothing but fun and laughter. Here are 5 reasons to bring your family to our Pigeon Forge show:
1. Something for All Ages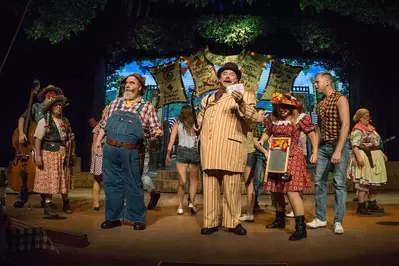 The Hatfield and McCoy Dinner Feud has something for everyone. Whether you have young kids, teenagers, or both, everyone will have a great time at our Pigeon Forge show! We use clean comedy to make everyone from children to grandparents laugh. Our exciting show has all the elements for a fun night for the whole family, from singing and dancing to jaw-dropping stunts!
2. Diving Dogs
One aspect of our show that is sure to be a favorite among all members of the family is our diving dogs! We've added a 24-foot-deep swimming hole to our theater, which incorporates a whole other element of fun to our show. Guests will be amazed as our stage has dancing one minute before being transformed into a swimming hole with boats and diving boards the next minute! Our talented diving dogs will captivate the audience as they show off their skills, and so will our diving hillbillies! If you're interested in being close to all the action, be sure to ask about our Splash Zone seats.
3. A Family Feast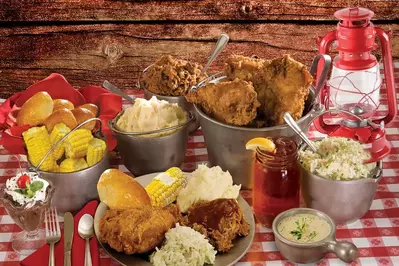 Did we mention we're a dinner show? We provide your family with a feast for you to enjoy while you watch the show! Our family feast is all-you-can-eat, so you don't have to worry about leaving hungry! The meal includes Feudin' Fried Chick'n, Open Pit Pulled-to-Pieces Pork Barbeque, Southern Style Creamy Soup, Smashed Mashed Taters, Buttery Corn on the Cob, Ma's Hot Homemade Bread, Daisy's Blue Ribbon Coleslaw, and Granny's Famous Specialty Dessert. We also offer gluten-free, dairy-free, and vegetarian options to accommodate everyone in the family.
4. Variety of Entertainment
We mentioned before that our show has something for everyone, and that's because it includes a variety of entertainment. You'll watch as the Hatfields and McCoys try to settle their differences mountain-style through a show that features action-packed battles of singing, dancing and clogging, diving and other exciting stunts!
5. Audience Interaction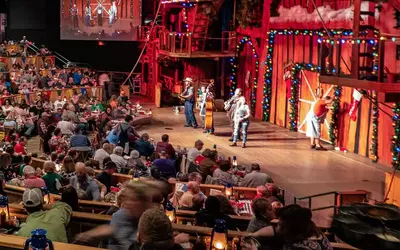 Of course, one part that makes our Pigeon Forge show special is the audience interaction! No one in the family will get bored because there are plenty of opportunities to get involved with the show. At the Hatfield and McCoy Dinner Feud, you'll get to become a part of the longest-running family feud in history! Our theater is divided into two sections: the Hatfields and the McCoys, so you can cheer for whichever side you're seated on. There is also a section of our show where audience members can join in on the action and compete in events! By getting involved in the show, families create memories that will last long after vacation is over.
Now that you know what makes our Pigeon Forge show great for families, we bet you can't wait to bring your family to the Hatfield and McCoy Dinner Feud! Get your tickets today. We look forward to seeing you!