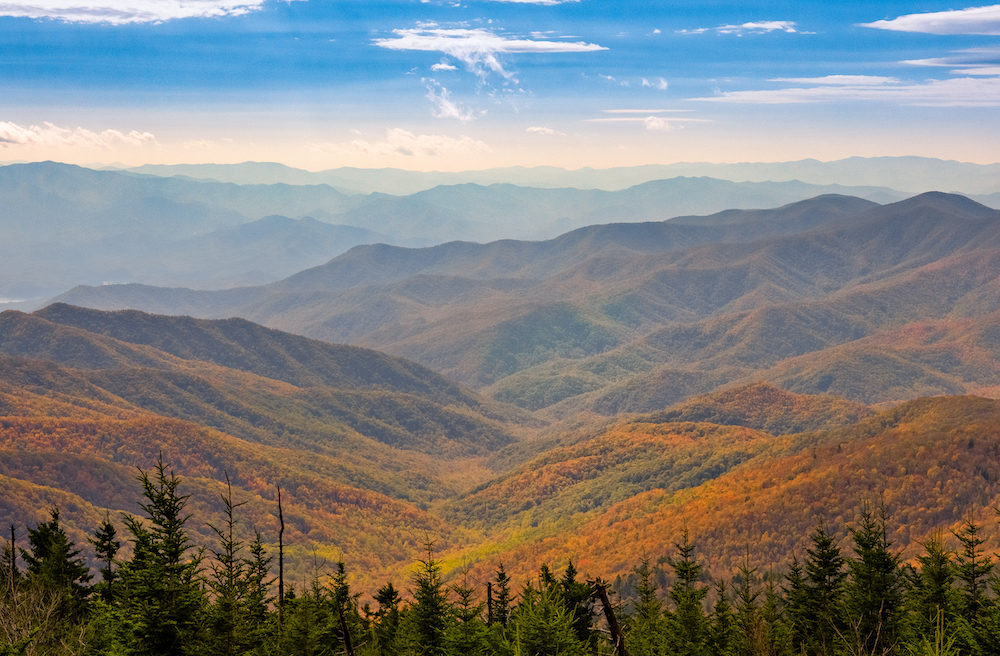 3 Reasons to Visit Hatfield & McCoy Dinner Feud in the Fall
September 22, 2023
If you've never been to Pigeon Forge during the fall season, there's no better time than now to plan a visit! While you're here, you won't want to miss the chance to enjoy our dinner attraction. We're entertaining all visitors with feudin', feastin', family fun this fall, so come see what all the fuss is about! Here are 3 reasons to visit Hatfield & McCoy Dinner Feud in the fall:
1. Fall Family Fun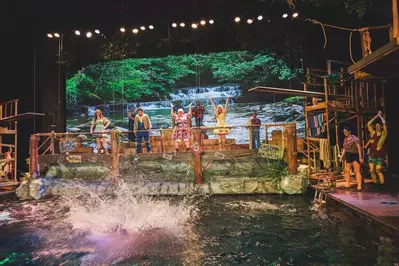 When you're ready for some fall family fun, get your tickets to the Hatfield & McCoy Dinner Feud! Our family-friendly show has something for all ages, from hilarious antics to diving dogs and hillbillies. It's the perfect place to be entertained and to laugh the night away with your loved ones by your side. Our show features side-splitting comedy, jaw-dropping stunts, singing and dancing, and mighty feats of strength. Be amazed as our stage transforms into a 22-feet-deep swimming hole and our diving hillbillies and dogs show off their tricks, or when our high-flying contraption assists the sheriff in keeping an eye on the two feuding families. Fall is your last chance of the year to catch our regular season show before our comedic Christmas show kicks off on November 1st!
While you watch our show, you'll get to enjoy our all-you-can-eat feast! Nothing pairs better with fall weather in the Smokies than our warm creamy soup and our Southern comfort food. Enjoy endless helpings of our Southern Style Creamy Soup, Ma's Hot Homemade Bread, Feudin' Fried Chick'n, Open Pit Pulled-to-Pieces Pork Barbeque, Smashed Mashed Taters, Buttery Corn on the Cob, and No Tellin' What's In It Coleslaw. Be sure to save room for Granny's Famous Specialty Dessert — it's the perfect treat to satisfy your sweet tooth!
2. Opportunities to See Fall Foliage
One of the biggest draws to the Smoky Mountains during the fall season is the beautiful fall foliage that you can see at every turn. When you visit Hatfield & McCoy Dinner Feud this fall, you'll have gorgeous views of the fall colors all around you. We recommend taking some time before or after our show to go for a scenic drive or a hike through the Great Smoky Mountains National Park. Some of the best spots to see the fall colors in the park are Alum Cave, Mount LeConte, and Cades Cove.
3. Near Other Fall Events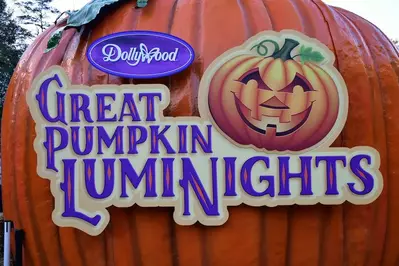 Another great reason to visit our dinner show in Pigeon Forge this fall is that we have a great location near other exciting fall events. Spend one evening at our show, and another day exploring the rest of the fall fun in Pigeon Forge. One fall event you don't want to miss is Dollywood's Harvest Festival. Dollywood is only about 6 miles from our dinner attraction, which means you can find lodging nearby and be a short drive from us both! The Harvest Festival at Dollywood features delicious fall flavors, live Southern gospel, bluegrass, and country music, and, of course, plenty of fall decorations! Great Pumpkin LumiNights lights up the night with thousands of carved pumpkins and larger-than-life pumpkin sculptures, including Dolly's Guitar and a glowing, 40-foot pumpkin tree. The fall fun never ends at this world-class theme park.
You're guaranteed a memorable fall vacation when you visit the Hatfield & McCoy Dinner Feud! Take a look at our show schedule and get your tickets to our Pigeon Forge dinner show today so you don't miss out!