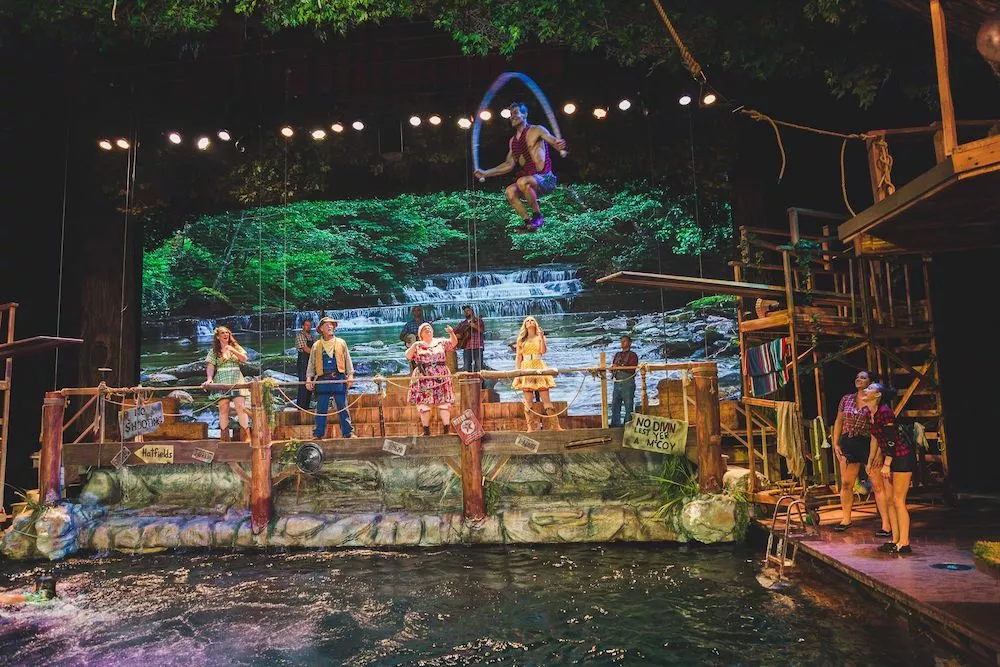 4 Fun Facts About the Swimming Hole at Our Pigeon Forge Dinner Show
January 27, 2023
If you've been to see us in recent years, you've had the chance to witness a unique aspect of our show — our swimming hole! We unveiled this addition during our 2018 season, introducing a whole new layer of fun to our already hilarious show. If you haven't been to visit us yet since we added this feature, or if you're just curious to learn more about it, take a look at these fun facts about the swimming hole at our Pigeon Forge dinner show!
1. It was 3 years in the making
We took our time making sure our swimming hole was perfect and would provide endless laughs before we unveiled it to our audience! After 3 years and $3 million, we introduced the brand new chaos to our guests in May of 2018. If you haven't been to see our show since then, you'll want to put it on your list of must-visit attractions the next time you come to Pigeon Forge!
2. It's 20+ feet deep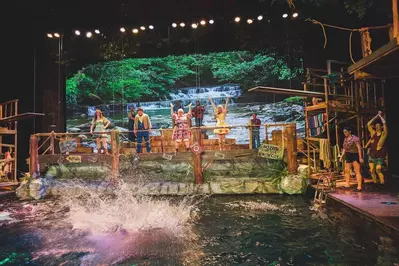 We don't mess around here at Hatfield & McCoy Dinner Feud. It's go big or go home, and we definitely went big! Our swimming hole is 22 feet deep. We've filled it with over 20,000 gallons of water — enough for both the Hatfields and McCoys to get in it at once! We made sure to make it so that our talented performers can all show off their exciting tricks in our pool.
3. We have diving hillbillies AND dogs.
Speaking of tricks — that's the best part about the swimming hole at our Pigeon Forge dinner show! You'll be amazed at our diving hillbillies who perform high-diving stunts. People aren't the only ones who get in on all the fun, though. We have diving dogs, too! Watch as the athletic dogs leap across the pool to fetch toys and sticks. This part of the show is especially popular with kids!
4. We have a Splash Zone.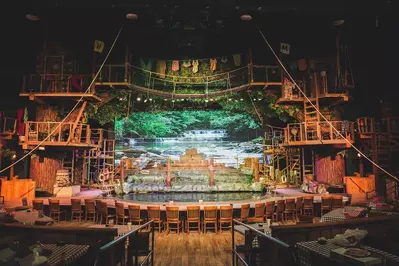 If you're in the front row of our Pigeon Forge dinner show — beware — you're in the Splash Zone! Those who get front row tickets for our show not only get to enjoy an all-you-can-eat meal and an up-close view of all the action, but they also have the chance to get splashed. Be prepared to get a little wet during the swimming hole portion of our show!
About Our Pigeon Forge Dinner Show
Our swimming hole isn't the only addition we've made to our show in recent years. For our 2022 season, we added a high-flying contraption called the billycopter! The billycopter helps the sheriff keep up with everything that's going on between the two feudin' families and brings plenty of extra laughter and fun to the Hatfield & McCoy Dinner Feud. Of course, our Pigeon Forge dinner show also features singing and dancing, mighty feats of strength, jaw-dropping stunts, and side-splitting comedy. Plus, there's no other dinner quite like the one you'll get to enjoy with us! We offer an all-you-can-eat Southern homestyle feast that tastes like it came straight from Granny's kitchen, completed with a specialty dessert.
You don't want to miss the opportunity to see the swimming hole at our Pigeon Forge dinner show! Get your tickets to Hatfield & McCoy Dinner Feudtoday.