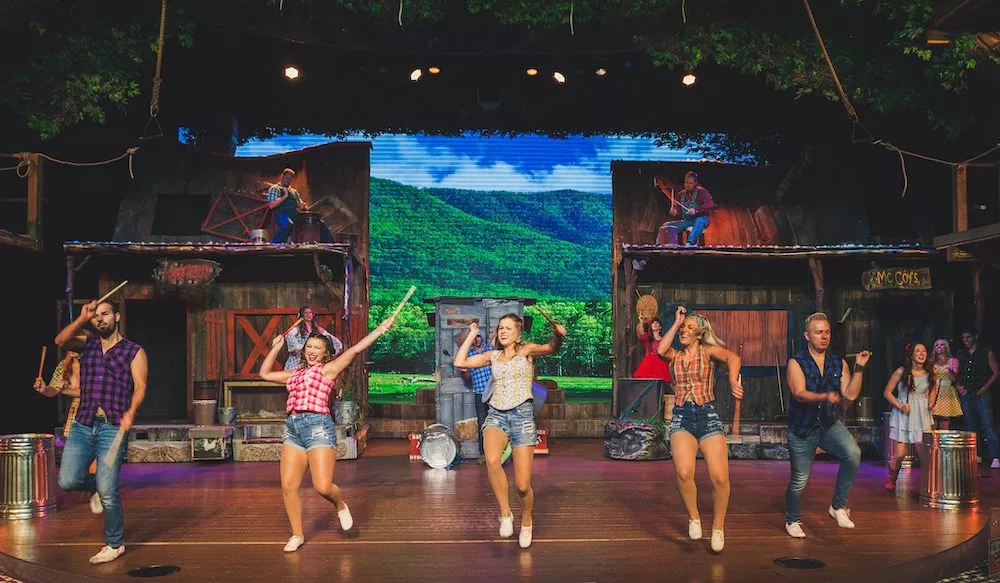 4 Things Groups Love About Our Dinner Show in Pigeon Forge
June 14, 2023
Are you looking for the perfect activity to do with a big group? Visit a dinner show in Pigeon Forge! Hatfield & McCoy Dinner Feud loves welcoming groups for some feudin', feastin', family fun. To help you learn more about why you should bring your group to our attraction, we've made a list of the top 4 things groups love about our dinner show in Pigeon Forge.
1. All-You-Can-Eat Dinner
It can be difficult deciding on a restaurant that everyone in your group can agree upon, and one that can accommodate all your group members. You won't have to worry about these things when you choose to visit Hatfield & McCoy Dinner Feud! Our dinner attraction serves up a Southern homestyle feast that everyone will love. Plus, it's all-you-can-eat and served family-style for everyone to enjoy! No one in your group will go hungry when you visit our dinner show in Pigeon Forge. Enjoy Feudin' Fried Chick'n, Open Pit Pulled-to-Pieces Pork Barbeque, Southern Style Creamy Soup, Smashed Mashed Taters, Buttery Corn on the Cob, Ma's Hot Homemade Bread, No Tellin' What's In It Coleslaw, and Granny's Famous Specialty Dessert. You'll also have unlimited Coca-Cola®, tea, or coffee! Have dietary needs or restrictions? Don't worry — we have gluten-free, dairy-free, vegetarian, and vegan meals available upon request.
2. Entertainment While You Dine
There'll be no time for boredom while you enjoy your meal! Guests get to eat our dinner while they watch our incredible show. Get ready to become a part of the longest running family feud in history as the Hatfields and McCoys try to settle their differences. There'll be singing and dancing, mighty feats of strength, jaw-dropping stunts, comedy, and more. All ages love our show, making it perfect for big groups. Whether you have kids, teens, adults, or seniors — there is something for everyone to enjoy! Our billycopter adds high-flying fun to the show, and our 22-feet-deep swimming hole makes it possible for hillbillies and dogs to show off their diving skills. Your group will leave full and happy!
3. Laughter
Everyone loves to laugh, and our dinner show in Pigeon Forge features hilarious, side-splitting comedy. Your group will be laughing the night away when you visit our show and talking about the funny moments long after the evening is over. Any stress or worries in your group will fade as you watch our show — after all, laughter is the best medicine!
4. Special Group Pricing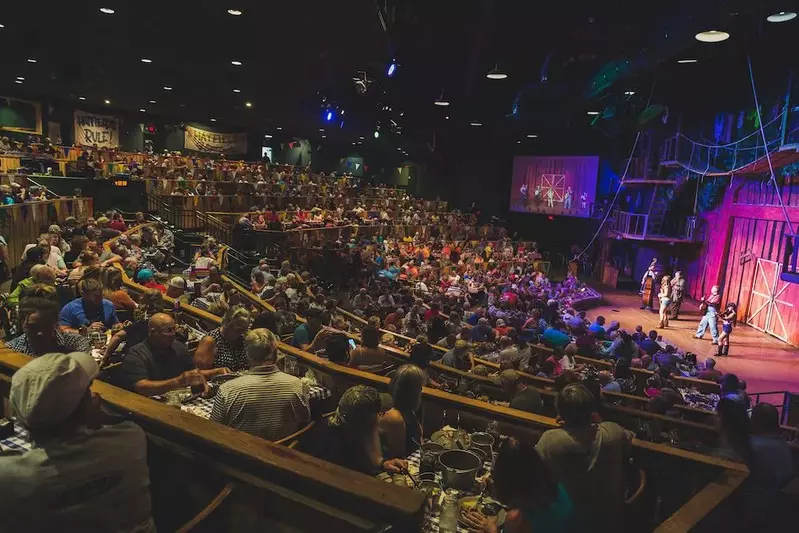 One of the main reasons your group will love visiting Hatfield & McCoy Dinner Feud, however, is because you can save money when you do it. We want groups to have an incredible time at our show, which is why we offer a discount for groups of 20 people or more. All you have to do is fill out our Groups Form online, and we'll be in touch. Our show also provides a great value for groups. Don't worry about paying for expensive attractions and then a hefty restaurant bill afterward. Get both for the price of one ticket when you visit Hatfield & McCoy Dinner Feud in Pigeon Forge!
Bring Your Group to Our Dinner Show in Pigeon Forge
Now that you know why groups love our dinner show in Pigeon Forge, we bet you can't wait to start planning your trip — and we can't wait to have you! Take a look at our show schedule and start planning your visit today.