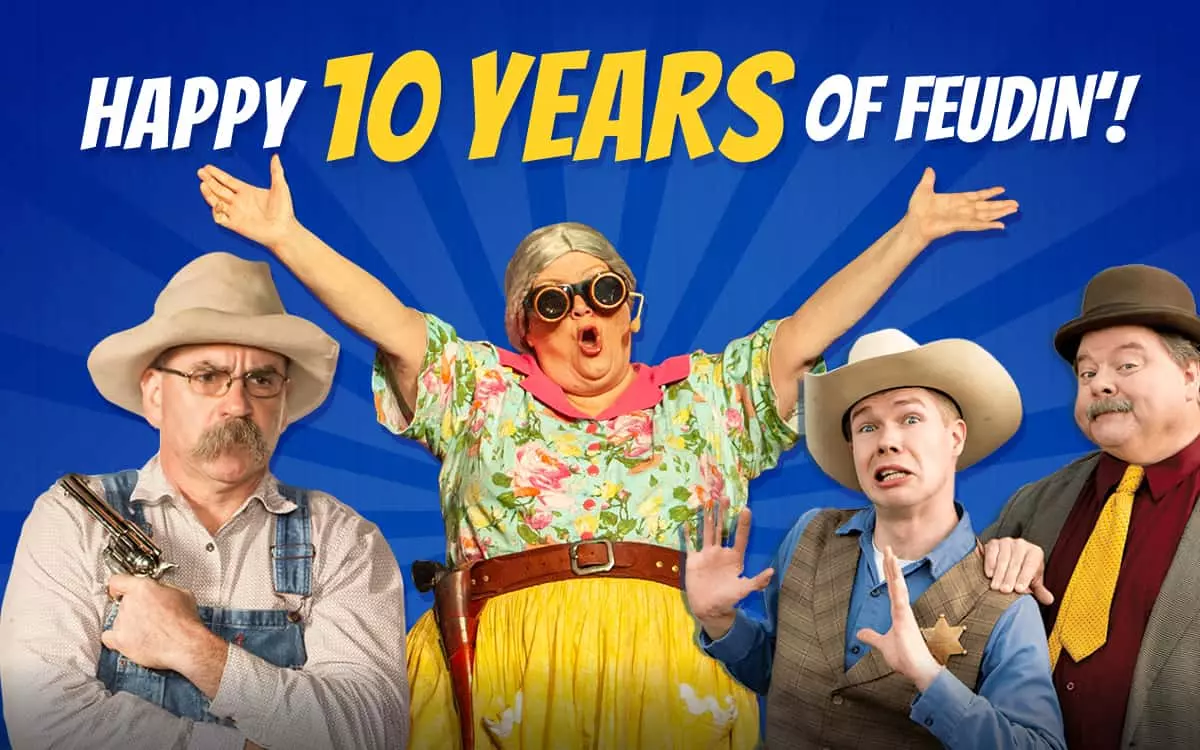 10 Years of Feudin', Fiddles and Fun
July 26, 2021
Hatfield & McCoy Dinner Feud Celebrates a Decade in Pigeon Forge
When most people hear the names Hatfield and McCoy, what comes to mind first are those two quarreling families from Kentucky and West Virginia several generations back. But what folks don't know about this famous feud is the lesser-known saga between a branch of the family tree that fought most about who was better in certain aspects of entertainment and ended up with their own dinner show in the Great Smoky Mountains – the Hatfield & McCoy Dinner Feud in Pigeon Forge, Tennessee!
The "other" history of the Hatfields and McCoys
Here's how it all happened for those of you that didn't realize the "other" history of the Hatfields and McCoys! A decade ago, way back in 2011, Pa Hatfield decided it was time for a fresh start somewhere new – but most importantly, somewhere far away from those crazy neighbors, the McCoy family. So he packed up all his belongings and convinced his three pretty daughters to move to the Great Smoky Mountains to seek fame and fortune with their talents for clogging and music.
They say smart minds think alike, so that same spring, Ma McCoy had the same idea – although it may have just been a country-minded coincidence instead of actual smarts! She told the rest of the McCoys that her three boys and their musical talents on the banjo, fiddle, bass and who knows what else had outgrown their current situation and they were starting over somewhere their entertainment talents would be really appreciated. So Ma loaded up the truck and headed to Pigeon Forge, Tennessee to make a fresh start. She figured since that's where Dolly's Dollywood was, it had to be the best option for her family's many talents!
Stirrin' up a feud
The new start in the Smokies was going just fine for the Hatfields and McCoys until the Mayor Timothy P. O'Reilly figured out who these two infamous families were, and he likes nothing better than to stir things up, especially when feudin' neighbors are concerned! He got the new sheriff, Duley Neal, involved, too, and the shenanigans commenced with competitions between these two clans of folks including clogging (the Hatfields have an edge here) and playing a variety of instruments (the McCoys' talent here is top-notch).
The two families ended up realizing that together, their talents are enough to fill up a show – what with the Hatfield girls' dancing up a storm, especially paired up with those McCoy brothers, the splash they make at the Swimming Hole with their fancy dives, diving dogs, duets between Pa Hatfield and Ma McCoy, side-splitting comedy capers, and playing tricks on that new Sheriff.
Makin' a fuss
So in April 2011, they made it official and opened up a show in Pigeon Forge and then told anyone who would listen – or that they could drag in – that they should buy a ticket. To really make it worthwhile, they looked into their grandma's old recipe book and told folks if they'd come see the show, they'd get served up a mountain feast before the show started. Did we mention it's all you can eat? They did that so you are so full that you won't be able to get up and leave your table and have to stay for the show!
These two mountain clans plan on continuing their feudin' and fun and mix together their country cookin', cloggin' and crazy capers all together for years to come. They even do a merrier version during the holidays with the Hatfield & McCoy Christmas Disaster!
So if you think your family acts a little bit crazier than other folks, just come check out the Hatfield &McCoy Dinner Feud on your next trip to the Smokies. You'll leave thinking your family is pretty normal – or at least no crazier than the Hatfields and McCoys!