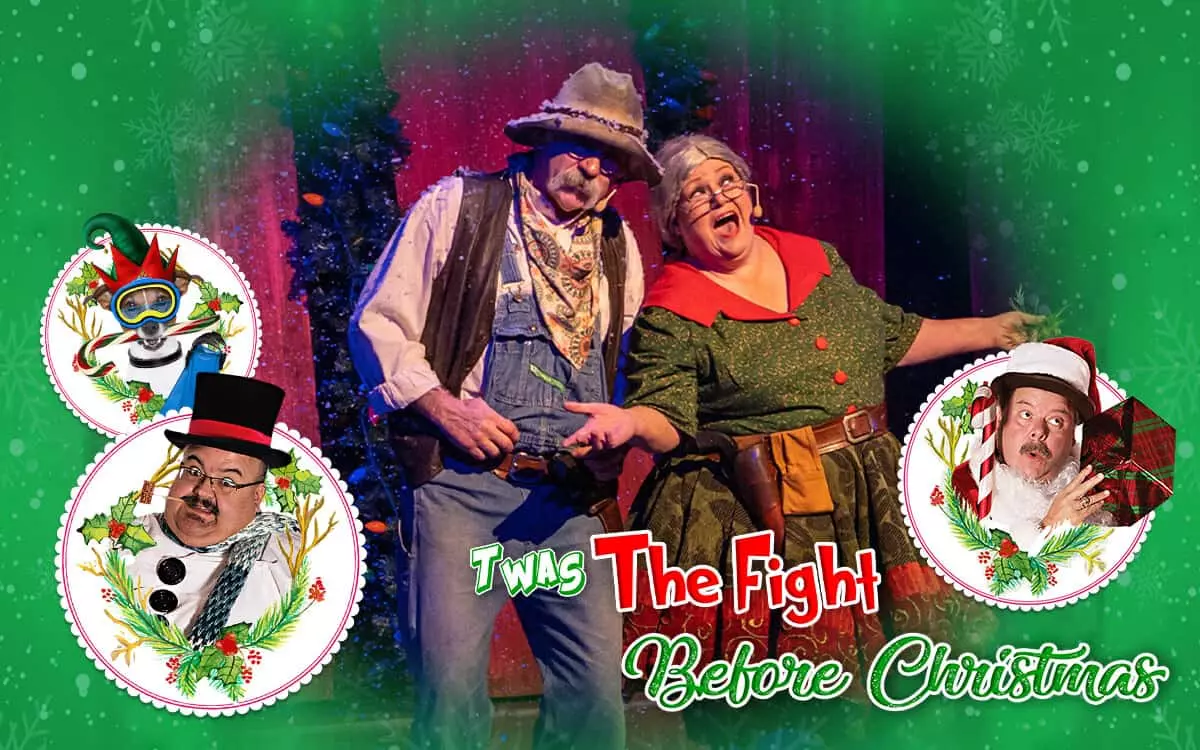 Holiday Hilarity Awaits at Hatfield & McCoy Dinner Feud
November 4, 2021
Hatfield & McCoy Christmas Disaster Dinner Feud Opens November 1, 2021
This season, join our two infamous families as they feud & fuss their way through the holidays at Hatfield & McCoy Christmas Disaster Dinner Feud in Pigeon Forge, TN. With holiday singing and dancing, mighty feats of strength, jaw dropping stunts and side-splitting comedy, come see why we put the HOLLER in the HOLLERdays!
Mistletoe Madness
Join Pa Hatfield and Ma McCoy as they try to set aside their longstanding differences to celebrate the most wonderful time of the year, but with the Christmas cheer comes lots of zaniness and commotion along the way. The comical cast of characters brings these two feudin' families together for an unforgettable holiday celebration full of singing, dancing, music, athletic stunts and hilarious antics that will have families in the audience joining in on the mistletoe madness. Our Christmas Dinner Show is full of fun, food and feudin' guaranteed to put you in the holiday spirit—and might even make you feel better about the craziness found in your own Christmas gatherings. Pa Hatfield and Ma McCoy say it best: "If you think your family is dysfunctional, you should see both of ours."
"The holidays can be such a crazy time for families," said Travis Randall, General Manager at Hatfield & McCoy Dinner Feud. "Our fun-filled Christmas show will make you laugh and share the fun of our two zany families with your family and set that holiday 'To Do' list aside for a little while. After seeing the Hatfields and McCoys, you'll think your family is perfect this Christmas! It's just good old-fashioned fun and a tribute to the holidays and family like nothing anywhere else."
Granny's Southern Homestyle Feast
And what is a Christmas family gathering without a delicious holiday dinner? The festive family-style feast is all-you-can-eat and served up with all the best Southern favorites. The meal begins with creamy vegetable soup and hot homemade bread, followed by fried chicken, pulled pork barbecue, mashed potatoes, creamy coleslaw, corn on the cob and a special holiday dessert to complete the feast. Vegetarian gluten-free meals are available upon request.
The yuletide fun starts November 1, so come on down to Pigeon Forge and experience all the hillbilly holiday shenanigans going on at Hatfield & McCoy Christmas Disaster Dinner Feud!