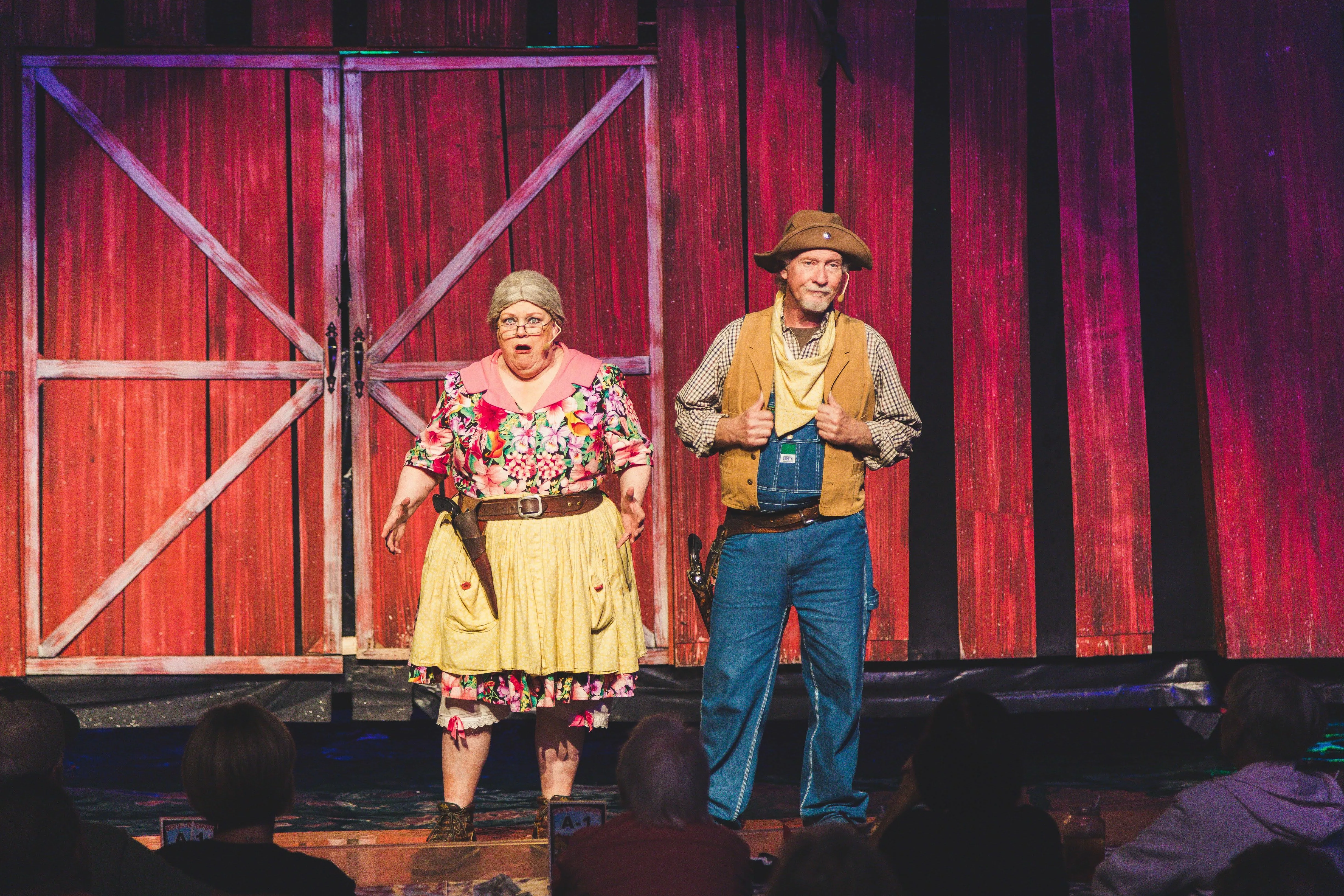 4 Things That Will Make You Laugh at Hatfield & McCoy Dinner Feud
May 26, 2023
In the mood for an evening filled with laughter? Visit the Hatfield & McCoy Dinner Feud in Pigeon Forge! Our dinner show provides feudin', feastin', and family fun that will keep a smile on your faces all night long. The truth is, there are so many moments of our show that offer side-splitting comedy. However, we've narrowed our list down to the top 4 things that will make you laugh to give you a better idea of what to expect when you visit us.
1. Our Billycopter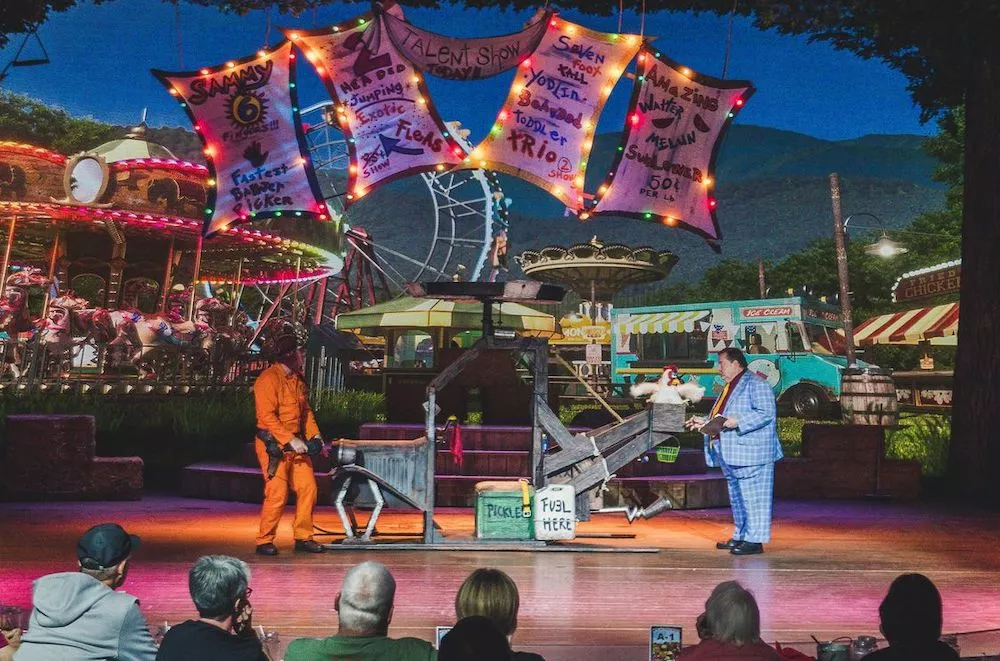 Mayor Timothy P. O'Reilly decided it was time to add some high-flying fun to our Pigeon Forge dinner show, so he introduced the billycopter to the sheriff. The billycopter is a flying contraption that makes it easier for the sheriff to keep an eye on the two families and their feuding. You won't believe the hilarity that ensues from the addition of the billycopter!
2. Our Family Feuding
Nothing makes you feel better about your family quarrels than watching the Hatfields and McCoys battle it out on our stage! This isn't your typical family feud, however. The two families are settling their differences, mountain style, through jaw-dropping stunts, mighty feats of strength, and singing and dancing competitions. Whether you're city folk or country cousins, you'll love laughing at the hilarious antics of the two families as they both try to be the best at everything.
3. Our Diving Dogs and Hillbillies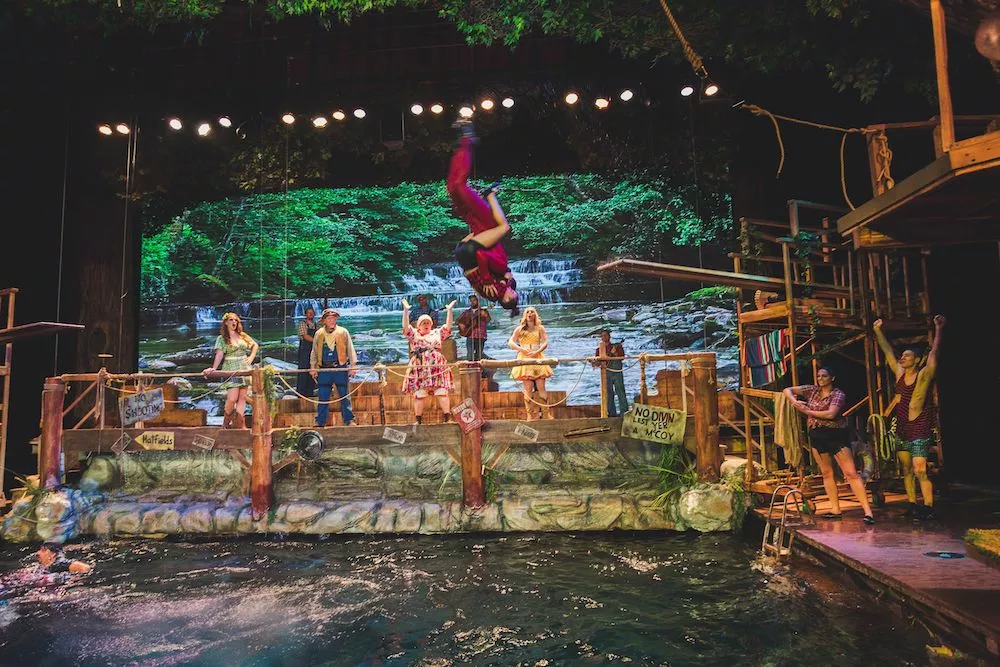 One of our guests' favorite parts of the show is when our stage transforms into a swimming hole! The swimming hole is 22 feet deep and allows our dogs and hillbillies to show off their diving skills. Watch as the dogs leap across the pool to fetch toys and sticks! Our diving hillbillies steal the show, however, as they perform unique dives off the diving board and make a big splash. You'll be laughing throughout this entire portion of the show!
4. Our Stunts
Our stunts are sure to amaze you, while also keeping a smile on your face. There's one stunt in particular during which a cast member's pants catch on fire, and he ends up having to sit in a bucket to put it out! Kids especially love this silly stunt, but the truth is we find a way to put a comedic spin on any and all of our impressive stunts!
About Hatfield & McCoy Dinner Feud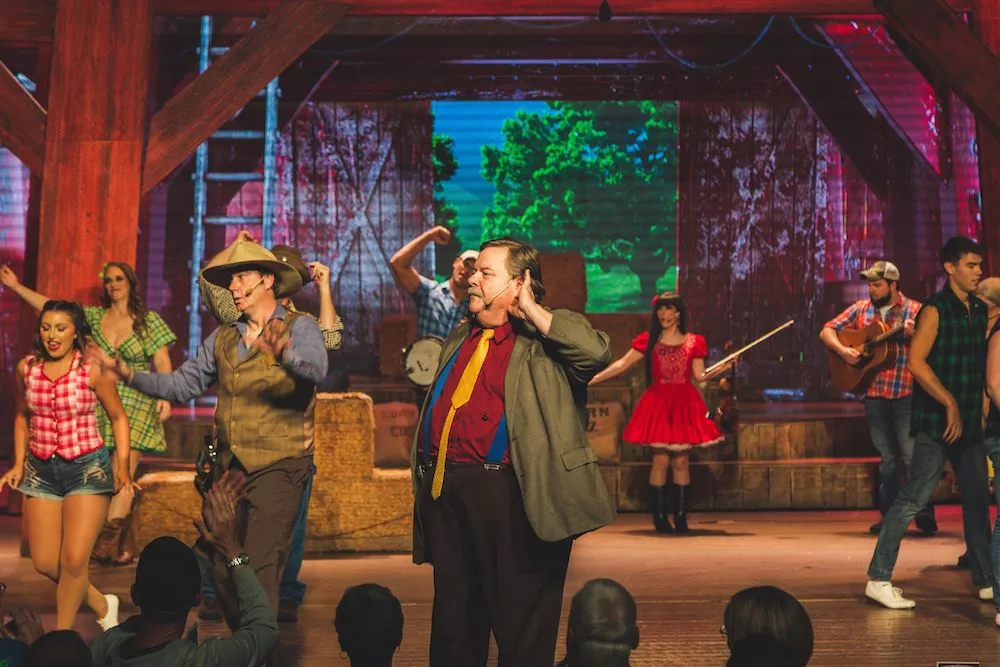 You're in for a full evening of hilarious antics when you visit Hatfield & McCoy Dinner Feud. Our Pigeon Forge show features the longest running family feud in history, singing and dancing, jaw-dropping stunts, mighty feats of strength, and side-splitting comedy. While you watch all the action, enjoy a Southern homestyle feast that's all-you-can-eat! You'll have endless helpings of Feudin' Fried Chick'n, Open Pit Pulled-to-Pieces Pork Barbeque, Southern Style Creamy Soup, Smashed Mashed Taters, Buttery Corn on the Cob, Ma's Hot Homemade Bread, No Tellin' What's In It Coleslaw, and Granny's Famous Specialty Dessert. You'll leave our show full and happy!
Are you ready to laugh the night away at Hatfield & McCoy Dinner Feud? Get your tickets to our Pigeon Forge dinner show today.