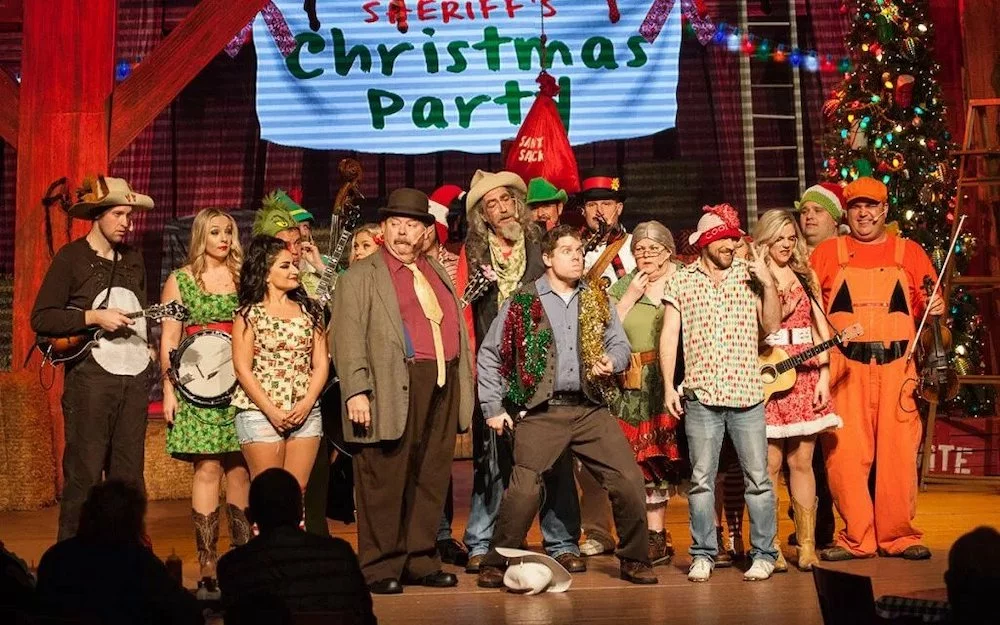 3 Reasons You Can't Miss the Hatfield & McCoy Christmas Show This Season
November 3, 2022
'Twas the fight before Christmas at Hatfield & McCoy Dinner Feud this holiday season! Bring your family to our Pigeon Forge theater for a Christmas show that's unlike any other. Experience feuding families, holiday music, Christmas costumes, jaw-dropping stunts, and more at Hatfield & McCoy Christmas Disaster Dinner Feud! To help you learn more about it and why you should visit, we've made a list of the top 3 reasons you can't miss the Hatfield & McCoy Christmas show this season:
1. Festive Family Feud
There's nothing like the holidays to bring families together — in this case, for a feud! Watch as Pa Hatfield and Ma McCoy try to set aside their differences in the spirit of the season. The families will face chaos and commotion through stunts and shenanigans that tell a holiday story that's unlike anything else. If you're looking for a show that will make you feel better about spending Christmas with your in-laws, Hatfield & McCoy Christmas Disaster Dinner Feud is the place to be. Trust us, you'll leave thinking your family is perfect!
2. Holiday Music & Fun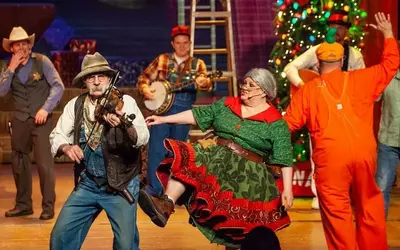 There is plenty of holiday music and fun featured in our Hatfield & McCoy Christmas show! As the two famous families feud, you'll witness singing and dancing to holiday music, entertaining stunts, and plenty of comedy. New to our Christmas show this season is the addition of our high-flying contraption, the billycopter. The billycopter comes in handy to help the sheriff keep an eye on the Hatfield and McCoy families and make note of who deserves to be on Santa's naughty or nice list! You'll love the holiday chaos that commences at this unique Christmas show and being able to create special holiday memories with your family at the Hatfield & McCoy Dinner Feud!
3. Holiday Music & Fun
Nobody does Christmas dinner better than the Hatfields and McCoys! One of the best parts about the holidays is sharing a meal with your family, and when you visit our dinner show, you'll be served a delicious family-style holiday feast. What's great about our dinner is that it's all you can eat, so make sure you bring your appetite! The menu includes our famous Southern Style Creamy Soup, Ma's Hot Homemade Bread, Feudin' Fried Chick'n, Open Pit Pulled-to-Pieces Pork Barbeque, Smashed Mashed Taters, Buttery Corn on the Cob, No Tellin' What's In It Coleslaw, and Granny's Famous Specialty Dessert. Plus, you'll get unlimited soda, tea, or coffee.
We also have special meals available upon request for those with dietary needs or preferences. Everyone will be able to enjoy a delicious holiday feast at our Hatfield & McCoy Christmas Show!
About Hatfield & McCoy Dinner Feud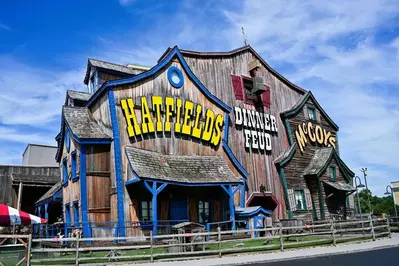 It's no secret that Hatfield & McCoy Dinner Feud is the perfect place to spend an evening with your family this holiday season. We have a great location right on the Pigeon Forge Parkway, along which you'll be able to see millions of twinkling holiday lights and decorations. You'll be able to make unforgettable memories at a Christmas adventure that's full of festive fun, food, and feuding.
Don't miss out on the chance to see our Hatfield & McCoy Christmas show this holiday season. Get your tickets today and get into the Christmas spirit with us!