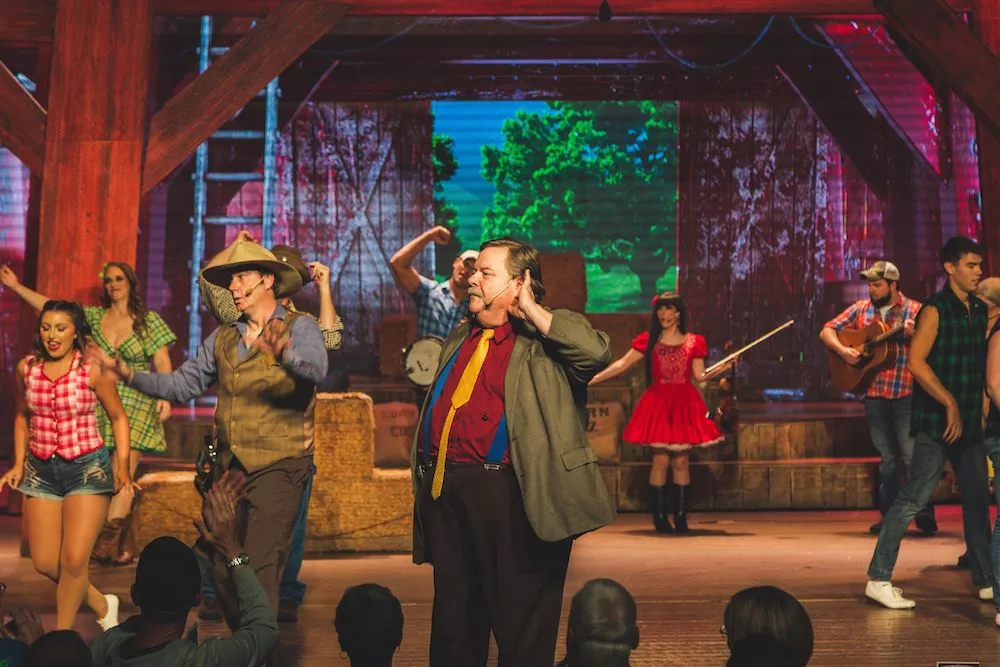 Why We Have the Best Dinner Show in Pigeon Forge for Kids
March 8, 2023
Join us at Hatfield & McCoy Dinner Feud for some feudin', feastin', family fun! Our family invites your family to our Pigeon Forge dinner show for an unforgettable evening filled with laughter, some friendly competitions, and a home-cooked meal. Kids especially will fall in love with everything our show has to offer! Keep reading to find out why we have the best dinner show in Pigeon Forge for kids.
1. Family-Friendly Comedy
Our show provides non-stop laughter for audience members of all ages, including the kids! We use family-friendly comedy so that everyone can laugh along with the hilarious antics of our hillbillies. Watch as the Hatfields and McCoys try to settle their differences mountain-style through jaw-dropping stunts, singing and dancing, and mighty feats of strength. And, of course, all throughout the show you'll witness some side-splitting comedy! Kids, teens, parents, and grandparents can all laugh the night away at our Pigeon Forge dinner show.
2. Diving Dogs & a Splash Zone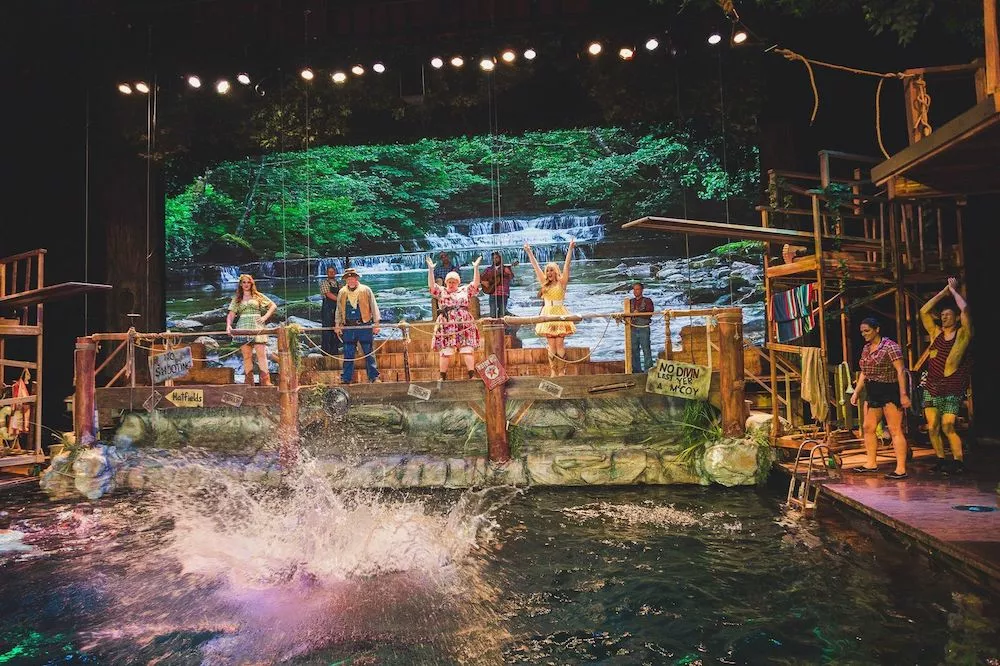 We know how much kids love animals, so you'll be happy to know we've included some talented four-legged friends in our show! The addition of our swimming hole allowed us to incorporate an act that's a favorite among all the children in the audience — our diving dogs. The diving dogs show off their skills as they fetch and swim in the 22-foot-deep swimming hole. If your kids want to be in the splash zone, you'll want to get seats in the front row!
3. Audience Participation
Nothing makes kids happier than seeing Mom or Dad get pulled on stage to join in on all the fun! Kids love the audience participation elements in our show. Not only do you have the opportunity to get pulled on stage to compete in your own events and wow your kids, but your seats determine which side you're on: the Hatfields or the McCoys. Kids love cheering for their family's side throughout the show!
4. All-You-Can-Eat Meal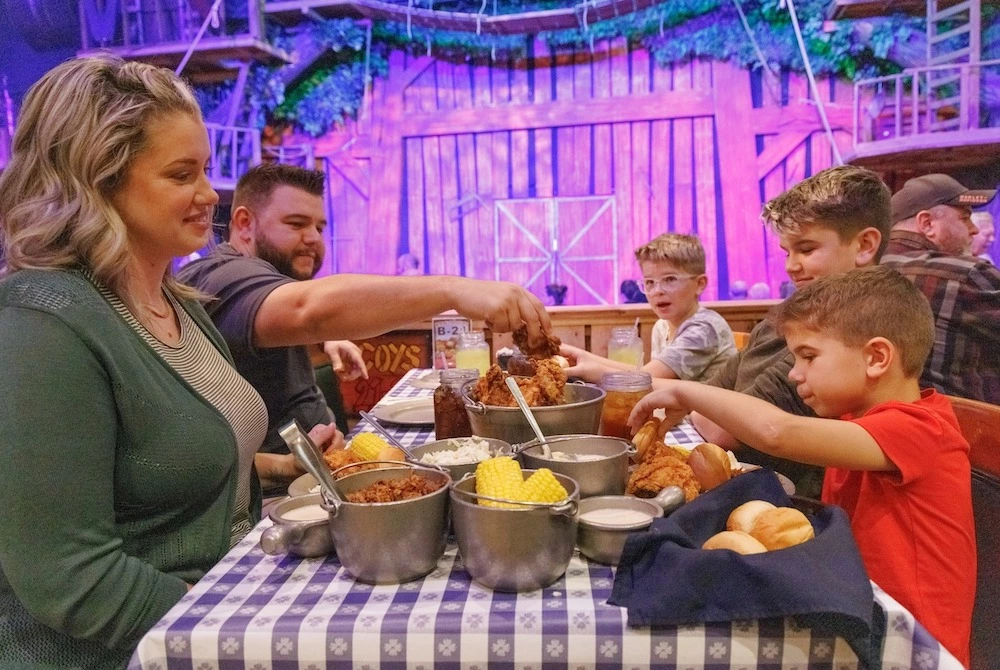 We know that kids can be picky eaters, but no one can resist the delicious food at Hatfield & McCoy Dinner Feud! We offer home-cooked Southern favorites, like fried chicken and coleslaw, and all of it's served family-style. Plus, we're the best dinner show in Pigeon Forge for kids because our meal is all-you-can-eat! We know growing kids need plenty of food — that's why we offer endless helpings of our dinner. We also include a delicious dessert straight from Granny's kitchen! The full meal includes Feudin' Fried Chick'n, Open Pit Pulled-to-Pieces Pork Barbeque, Southern Style Creamy Soup, Smashed Mashed Taters, Buttery Corn on the Cob, Ma's Hot Homemade Bread, No Tellin' What's In It Coleslaw, and Granny's Famous Specialty Dessert.
5. Family Photo Ops
One of the best parts about a family vacation is capturing photos with your loved ones that you can cherish for years to come. That's why we've incorporated plenty of great photo opportunities around our theater. Your kids will love snapping funny photos outside, and you can all get a photo together inside our theater! Be sure to stop by our gift shop before you leave to purchase the photo and other fun souvenirs from our show.
Now that you know why we have the best dinner show in Pigeon Forge for kids, it's time to start planning your visit with your family! Take a look at our Hatfield & McCoy Dinner Feud show schedule, then get your tickets!