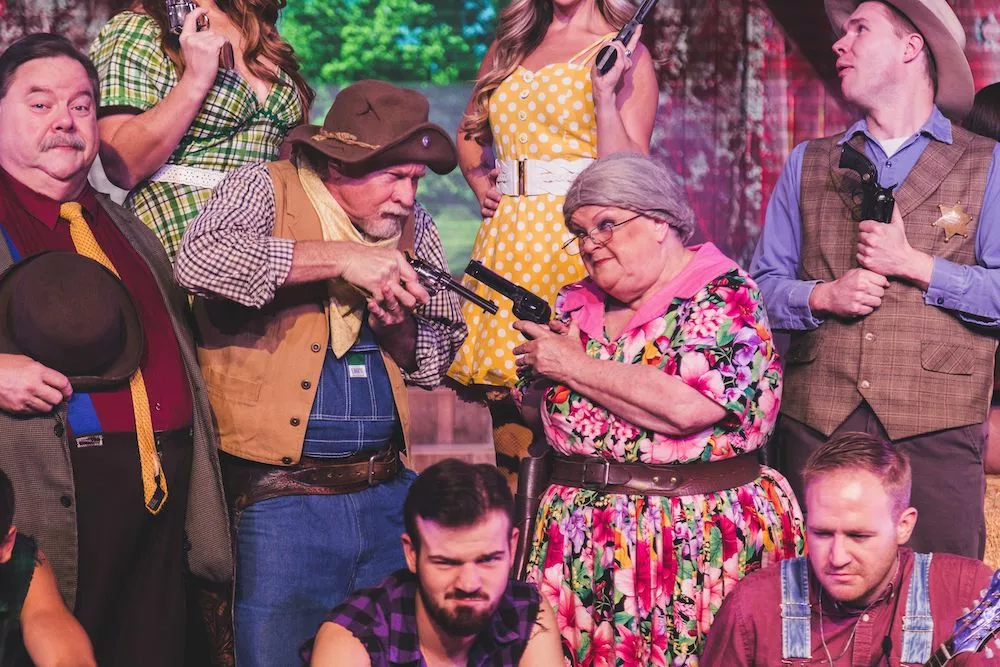 3 Things to Bring to Our Pigeon Forge Dinner Show
July 6, 2023
Hatfield & McCoy Dinner Feud brings feudin', feastin', and family fun to Pigeon Forge. While the show brings those three things and more, there are a few things you should also bring when you visit! To make sure you're prepared, we've put together a list of the top 3 things to bring to our Pigeon Forge dinner show.
1. Your Laughter
The one thing you can't come to our show without is your laughter! Our show is full of hilarious hijinks, so if you're not ready to laugh, you're not ready to come see us. Throughout the show, you'll witness the chaos of fighting cousins through singing and dancing performances, mighty feats of strength, jaw-dropping stunts, and side-splitting comedy. We guarantee you'll be laughing all evening long! We recently introduced our billycopter to the show, which brings some high-flying fun and more hilarity.
2. Your Appetite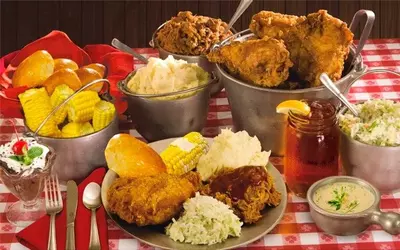 Another thing you have to bring to our Pigeon Forge dinner show is your appetite. Come hungry and leave full and happy! Everyone is sure to satisfy their appetite when they visit Hatfield & McCoy Dinner Feud because we serve a full, Southern homestyle feast. Not only that, but our feast is all-you-can-eat! You can have endless portions of your favorite country fixings. The meal includes Feudin' Fried Chick'n, Open Pit Pulled-to-Pieces Pork Barbeque, Southern Style Creamy Soup, Smashed Mashed Taters, Buttery Corn on the Cob, Ma's Hot Homemade Bread, No Tellin' What's In It Coleslaw, and even Granny's Famous Specialty Dessert. You don't want to miss out on enjoying any part of this mouthwatering feast, so be sure to bring your appetite.
3. Your Family
Everything's better when you get it to share it with the people you love! That's why we recommend bringing your family to our Pigeon Forge dinner show! Plus, nothing will make you feel better about your own family's quarrels than witnessing the Hatfields and McCoys fighting on stage. It's the longest running feud in history. The Hatfields and McCoys try to settle their differences, mountain style, and even have a diving competition in the swimming hole! You'll get to see both diving hillbillies and diving dogs show off their tricks. You'll get to enjoy the meal (which is served family style) while you watch the show, making it the most entertaining family dinner you've shared in years! All ages are entertained by the Hatfield & McCoy Dinner Feud, meaning kids, parents, and grandparents can all have a fun evening together.
About Our Pigeon Forge Dinner Show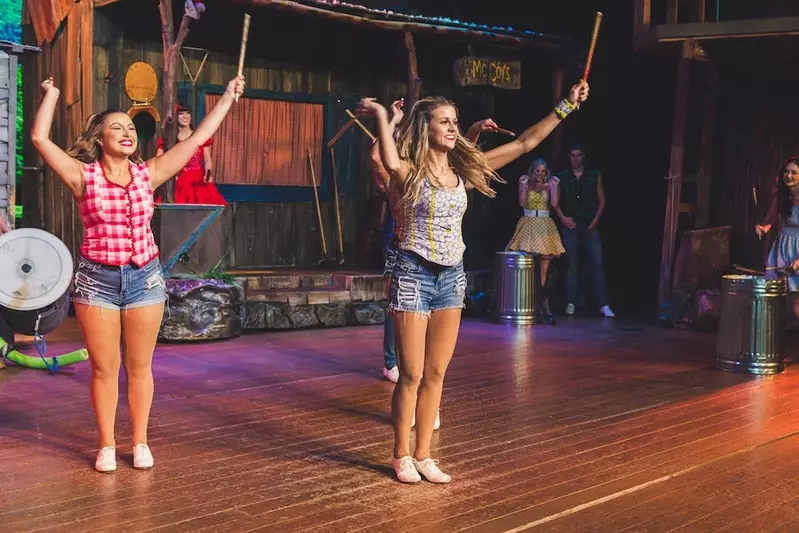 Now that you know what to bring to our Pigeon Forge dinner show, we're here to tell you a few things you can take home from our show as well. The long-lasting memories you can share with loved ones are priceless, and you can also pick up some fun souvenirs from our gift shop! We recommend a Hatfield & McCoy t-shirt or some small trinkets like a magnet or a coffee mug. Want to bring home a taste of our show with you? Be sure to pick up a bag of our creamy soup mix!
Located right on the Parkway, we're a can't-miss stop on your vacation. We love entertaining guests year after year with our musical performances and impressive stunts, and we look forward to welcoming your family soon! Get your tickets to our Pigeon Forge dinner show today.