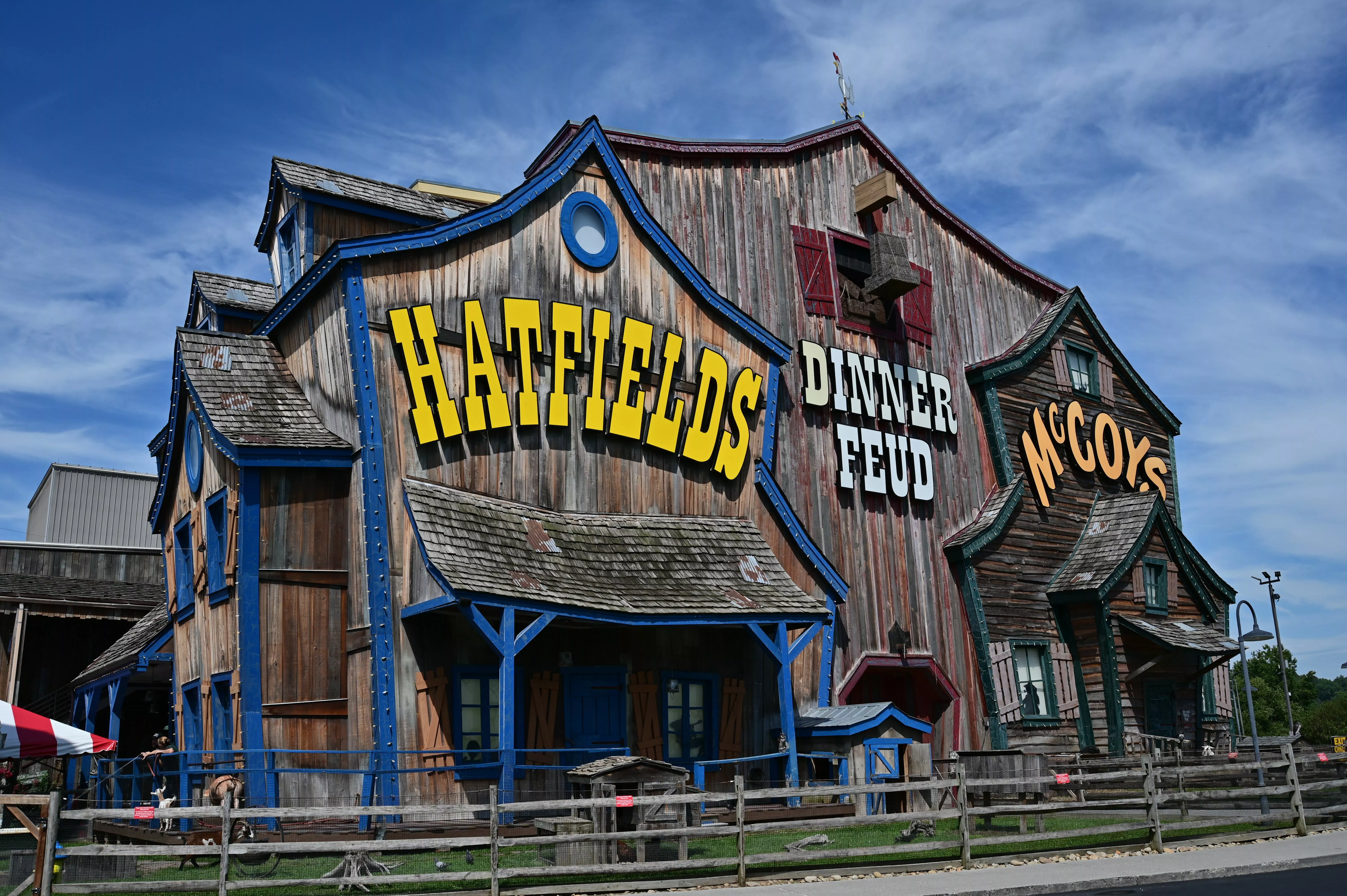 4 Things to Do in Pigeon Forge for First-Time Visitors
July 21, 2023
If you've never been to Pigeon Forge, it's time to plan a visit! There's a reason it's one of the most visited vacation destinations in the country. With so much to see and do in town, it can be hard to decide what to fit into your first visit. There are a few attractions that you can't miss while you're here, and we're here to tell you what they are! Here are 4 things to do in Pigeon Forge for first-time visitors:
1. See a Dinner Show
Pigeon Forge is known for its entertainment, and one of the best ways to spend an evening is at a dinner show! We love welcoming all visitors to Hatfield & McCoy Dinner Feud, where you can witness the longest running feud in history as the Hatfield & McCoy families try to settle their differences. It features jaw-dropping stunts, mighty feats of strength, comedy, singing and dancing, diving tricks, and more! While you watch the show, you'll get to enjoy an all-you-can-eat Southern homestyle feast that tastes like it came straight from Granny's kitchen.
If you love our show, take time to visit another dinner show while you're in town, like Dolly Parton's Stampede or Pirates Voyage Dinner & Show! Dolly Parton's Stampede is a high-spirited adventure with 32 magnificent horses and a cast of talented trick riders, along with a four-course feast made to satisfy all your country cravings. Pirates Voyage Dinner & Show is an epic pirate battle on land, on deck, in the air, and in the water, featuring sword fighting, aerial stunts, and a hearty pirate feast!
2. Visit The Comedy Barn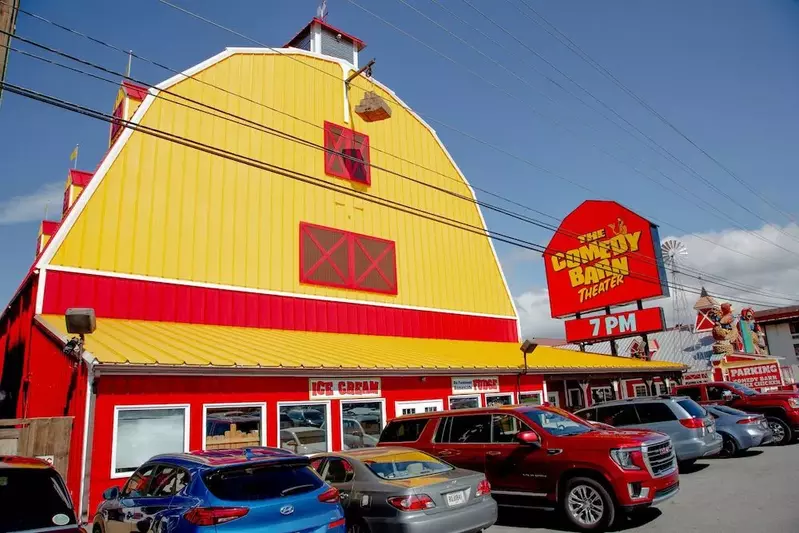 Your first visit to Pigeon Forge deserves a little laughter, and The Comedy Barn offers that and more! It's the most successful and most attended clean comedy theater in the world, and once you visit, you'll understand why! During the hilarious show, you'll be able to see comedians, jugglers, ventriloquists, barnyard animals, and musical performers, all of whom will keep you laughing. There is even some audience participation, so if you're lucky, you'll have the opportunity to join the cast on stage for an act! An evening spent at The Comedy Barn is an evening full of a thousand laughs, guaranteed.
3. Enjoy Dollywood
You won't want to miss the chance to experience one of the top theme parks in the country! Dollywood is a world-class attraction that features more than 50 world-class rides, high-energy entertainment, award-winning dining, and more. Some things you have to do while you're there are enjoy Big Bear Mountain, the longest roller coaster in the park, take a ride on the Dollywood Express, browse the specialty shops, and get some world-famous cinnamon bread from the Grist Mill! Those looking for a thrill will love the roller coasters, including Drop Line and Wild Eagle, and those looking for family-friendly fun will love the Country Fair section of the park, the play areas, and the live entertainment — not to mention the delicious restaurants and eateries! There's fun for everyone at Dollywood.
4. Take in the Views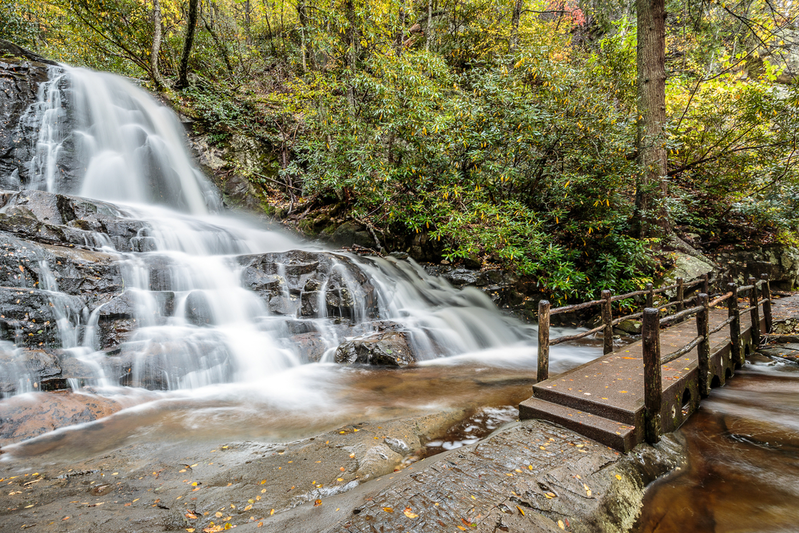 One of the best parts about visiting Pigeon Forge is its proximity to the Great Smoky Mountains National Park, the most visited national park in the country. You're surrounded by gorgeous mountain views and scenery, and you'll definitely want to take a moment to enjoy it. To see the best views, we recommend taking a drive into the park. You can go for a hike on one of the many popular trails, take a scenic drive, and stop at one of the many pull-offs to snap some photos. We recommend driving through Cades Cove for a great opportunity to see beautiful views and spot wildlife, or hike to a gorgeous waterfall like Laurel Falls! The breathtaking views in the Smoky Mountains also make the perfect backdrop for family photos.
Now that you know about the top things to do in Pigeon Forge for first-time visitors, we bet you can't wait to start planning your trip. Check out our guide to planning the perfect Pigeon Forge vacation to guarantee you have the best time!