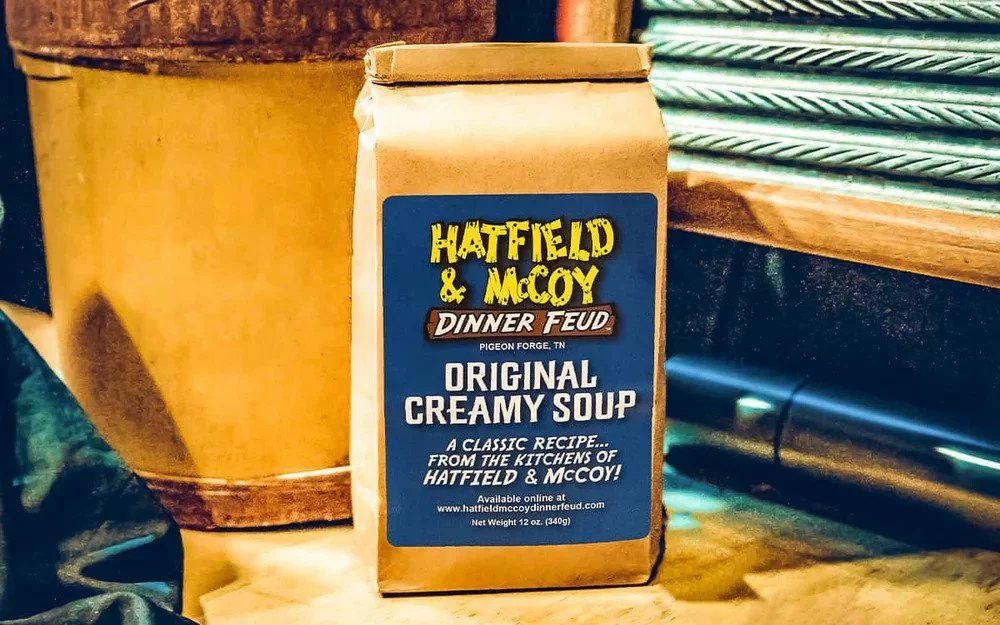 3 Things to Know About Our Hatfield & McCoy Dinner Feud Soup
August 21, 2023
If you've been to our show before, you know that our delicious homestyle feast begins with our Southern Style Creamy Soup! This is one of many dishes you'll be served at our Pigeon Forge dinner show. Whether you've tried our soup before and fell in love or are interested in seeing what all the hype is about, we've come up with the top 3 things to know about it to help you learn more. Here are 3 things to know about our Hatfield & McCoy Dinner Feud soup:
1. Best Way to Kick Off Our Meal
You better bring your appetite when you visit our Pigeon Forge dinner show! Once you take your seats in our theater, you'll be thrilled to discover a feast as big as our main event. Starting off that feast is our famous Hatfield & McCoy Dinner Feud soup. Our Southern Style Creamy Soup quickly became one of our visitors' favorite parts of the meal. Enjoy a classic recipe straight from our kitchen. We use a savory blend of down-home spices and fresh ingredients for a soup you won't find anywhere back in your hometown! It's served with some of Ma's Hot Homemade Bread, which is perfect for dipping in it. We can't think of any better way to kick off our full Southern feast!
2. Complements a Full Southern Homestyle Feast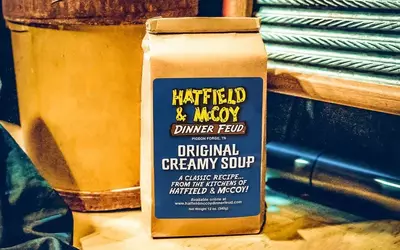 Our Hatfield & McCoy Dinner Feud soup is just the beginning of the full Southern homestyle feast you'll get to enjoy at our show. When you visit us, you'll be served a mouth-watering, all-you-can-eat meal that's meant to satisfy all your delicious, home-cooked, hillbilly cravings. It tastes like it came straight from Granny's kitchen! In addition to Ma's Hot Homemade Bread and our Southern Style Creamy Soup, the feast includes Feudin' Fried Chick'n, Open Pit Pulled-to-Pieces Pork Barbeque, Smashed Mashed Taters, Buttery Corn on the Cob, No Tellin' What's In It Coleslaw, and Granny's Famous Specialty Dessert. We also offer our guests unlimited Coca-Cola®, tea, or coffee. The best part is that it's all served family style! Your family can dig into endless helpings of your favorite dishes.
3. You Can Make It at Home
One question we get asked the most is, "Can we have the recipe for your soup so we can make it at home?" Because of its popularity, we decided to make it possible for everyone to enjoy our famous soup from the comfort of their own homes. We're proud to be able to sell our Original Creamy Soup Mix in both our gift shop and online. From our table to yours, this is the same creamy vegetable soup you've come to know and love at our dinner show! All you'll have to do is boil water, add Ma's secret soup mix, add vegetables to suit your taste, and enjoy. On each bag, you'll find detailed, step-by-step instructions that make cooking our soup as easy as 1, 2, 3! You'll love being able to enjoy the flavors of our Hatfield & McCoy Dinner Feud soup in your own home.
More About Our Southern Feast
Now that you know everything you need to know about our Hatfield & McCoy Dinner Feud soup, we bet you can't wait to learn more about the rest of our Southern homestyle feast! Find out the top 4 things to know about the feast at our dinner show in Pigeon Forge.